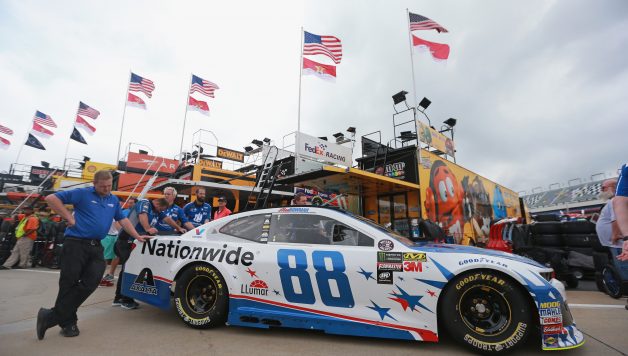 Haverlin's Hot Take: Previewing The Greatest Day in Motorsports
INDIANAPOLIS — Breakfast in Monaco. Lunch in Indy. Dinner in Charlotte.
Obviously, it's not physically possible to be in all three cities in one day. But if you're a motorhead, Sunday of Memorial Day weekend is probably one of your favorite days of the year and you'll be glued to the television. For me, Sunday is right up there with Thanksgiving and Christmas.
When you wake up, you'll pour some coffee or eat a bowl of cereal and watch Daniel Ricciardo lead the 20-car field on the streets of Monaco. The Grand Prix of Monaco is Formula One's most prestigious and glamorous event of the year. Overtaking is difficult on the narrow street course, so where a driver starts is usually indicative of where he finishes.
Two years ago, Ricciardo started from the pole, but a pit stop miscue cost the Red Bull driver the win. Lewis Hamilton came away with the victory while Ricciardo finished second.
Last year, Kimi Raikkonen started from the pole, and he was dealt a similar fate. He and his Ferrari teammate Sebastian Vettel started on the front row, but a slow stop let Vettel take the lead and hold on for the win. Raikkonen ended up second.
Vettel will start second and Hamilton third. Having a Red Bull, Ferrari, and Mercedes 1-2-3 on the starting grid could make this year's running intriguing. Can Hamilton finish ahead of Vettel and create a larger gap in the standings? Or will Vettel go back-to-back in Monte Carlo and cut into Hamilton's 17-point championship lead? Or will Ricciardo have redemption and earn his first victory on the world-famous street course?
Approximately two hours after the checkered flag waves across the pond, the spotlight will be on the 102 Indianapolis 500. Hometown favorite Ed Carpenter will lead the 33-car field with Team Penske drivers Will Power and Simon Pagenaud also on the front row. Starting from seventh will be Danica Patrick, who is running the final event of her career with Ed Carpenter Racing. The Chevrolets had the upper hand in qualifying, but will that translate to the race? The Penske cars were fastest without tow in practice throughout the week, so has the team's four vehicles adjusted to race-like conditions? And what role will the weather play? It's going to be around 90 degrees at race time, and cars will struggle to find grip.
At 6 p.m., NASCAR's longest race will be set to begin. The Coca-Cola 600 at Charlotte Motor Speedway will be led by Kyle Busch, who has won three times this season but has never won a points race at the 1.5-mile oval. Joey Logano will start on the outside row for Penske.
As you're eating dinner and watching the 400-lap race, you might be wondering, 'Where's Kevin Harvick?'
Harvick, who's won six times this season (if you count last weekend's All-Star race), will start from the rear of the field after his car failed pre-qualifying inspection. But don't expect him to stay there for long. I think he'll be in the top-10 before Stage 1, which concludes at Lap 100, is over. He has 600 miles to make it from 39th to first, and there's no doubt the 2014 series champion can get it done.
However, that means he'll have to deal with Busch, who leads the standings. Busch and Harvick have been the two most dominant cars so far, but they haven't often been battling each other on a weekly basis. Harvick was in his own league for three weeks after the Daytona 500. Then Busch won three consecutive races in April. Will one of them have the advantage on Sunday evening or could someone else be a contender?
The 600 has become famous for its first-time winners. Jeff Gordon, Matt Kenseth, Bobby Labonte, and most recently, Austin Dillon all won their first career Cup race at Charlotte. The series has plenty of young talent, including Chase Elliott, Erik Jones, William Byron, Darrell Wallace Jr., Daniel Suarez, Ty Dillon and Alex Bowman, who are searching for their first victory. Could one of them be in for a memorable night in NASCAR's backyard?
DISCLAIMER: Thoughts and opinions reflected are only those of the writer. Follow him on Twitter @JohnHaverlin
Photo: Matt Sullivan / Getty Images