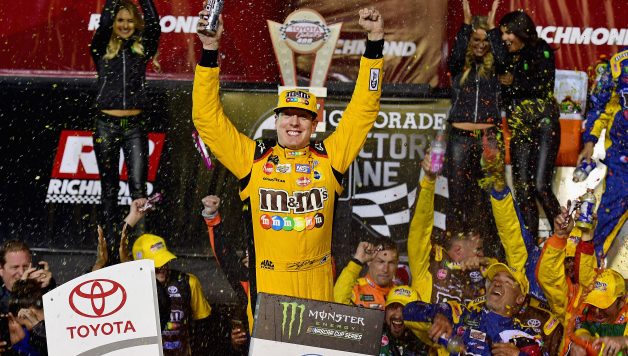 Haverlin's Hot Take: Kyle Busch's arrogance is pretty damn great
All race car drivers hate finishing second, but maybe none more so than Kyle Busch.
He was runner-up to Johnny Sauter in the Camping World Truck Series' North Carolina Education Lottery 200 at Charlotte Motor Speedway on Friday night. During his post-race news conference, Busch didn't mince words about his race.
The moderator asked him to describe how he was able to work through traffic after trouble on pit road and get to second when the checkered flag waved.
"Pure talent," Busch said. "That's about it. My pit crew did absolutely nothing to help me out tonight. My truck drove like shit. These splitters are absolutely horrendous. You can't pass in traffic. You can't race alongside anybody. You can't get within five truck lengths of no one — somehow, someway I was able to get back to the front. Had a blast."
No questions followed. Just like his Coca-Cola 600 presser from last May, it ended with a mic drop.
We know Busch can be full of himself. That's just his personality, which makes fans feel so strongly about their like or dislike of him. And it gives the press a reason to talk about him. His character is unlike anyone else's currently in NASCAR, and that's what makes him entertaining.
But was his criticism of his own team warranted? Yes. Here's why:
He is the owner of Kyle Busch Motorsports. Every crewman, engineer, and driver is an employee. Just like any other business, the boss will get mad if his employees don't do their jobs correctly, and that's what happened on Friday night when Busch's crew failed to perform quality pit stops.
On Saturday, a Twitter user said the truck series wouldn't exist any longer if it weren't for KBM. Busch responded:
There would b a series. I just think the learning curve to the next level would b steeper and steeper and some drivers wouldn't make it all the way. (Jones, Bubba, William, Suarez, Bell) https://t.co/1N6Zoj45od

— Kyle Busch (@KyleBusch) May 19, 2018
He essentially said Erik Jones, William Byron, Daniel Suarez, Darrell Wallace Jr. and Christopher Bell wouldn't be where they are now. All but Bell are in the Cup Series, and it won't be long until Bell, who currently competes with Joe Gibbs Racing in the Xfinity Series, will be there, too.
Taking credit for the career paths of four Cup drivers seems excessive, but there is some truth to it. Jones and Suarez compete with JGR in NASCAR's top series. But Byron left KBM after 2016 and signed with Hendrick Motorsports, and Wallace joined Richard Petty Motorsports. Those two drivers had enough talent to find a way to Cup without the complete reliance of Busch, JGR, and Toyota Racing Development.
Then there's the debate of whether Busch should even be allowed to compete in a lower series at all. NASCAR's rule says that drivers with more than five years of Cup experience can run up to five truck races. Busch has said in the past that if Cup guys are ever banned from competing in the series, he'll shut down KBM.
Not only is that a threat to the series, but it threatens the livelihoods of all his employees. Without KBM, drivers, crew chiefs, pit crew members, etc. wouldn't be able to further their careers with an organization as well-funded as KBM.
Busch speaks the truth, and sometimes it comes off as egotistical. But that's the way he's always been. Don't ask him to change, because he never will.
DISCLAIMER: Thoughts and opinions reflected are only those of the writer. Follow him on Twitter @JohnHaverlin
Photo: Jared C. Tilton/Getty Images