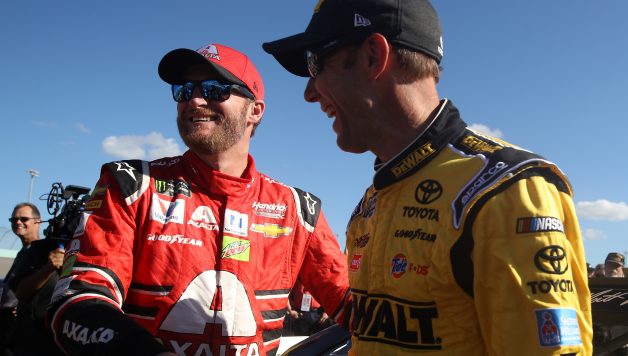 Analysis of the Matt Kenseth-Roush Fenway Racing reunion
Published On April 24, 2018 |
News
On Monday night, SB Nation's Jordan Bianchi reported that 2003 NASCAR Cup Series champion Matt Kenseth would rejoin his former team Roush Fenway Racing to share the No. 6 Ford with Trevor Bayne for the rest of 2018.
Kenseth last raced at Homestead-Miami Speedway five months ago with Joe Gibbs Racing. At the time, it appeared it would be the last Cup race of his career.
He competed with RFR for 14 years before joining JGR following the 2012 season and earned 24 of his 39 wins with the Ford organization. Erik Jones replaced Kenseth in the No. 20 this year because of his ability to attract sponsorship and his youth. JGR sees Jones as a long-term commitment.
Kenseth, 46, never said he was retiring when he announced that 2017 would be his final season with JGR. He said he would be on a hiatus and left open the possibility of returning to race one day.
However, most fans and media took the liberty of using the R-word because a return to NASCAR's top level without adequate sponsorship and an age over 40 seemed unlikely.
But Kenseth has proved us wrong. We had a similar situation arise in 2016 when Jeff Gordon returned to Hendrick Motorsports to fill in for Dale Earnhardt Jr. while he recovered from a concussion. When it comes to a legendary driver saying he won't race anymore, I guess we've learned never to say never.
Bayne, the 2011 Daytona 500 champion, has been the full-time driver of the No. 6 since 2015. Performance-wise, he's severely underwhelmed and hasn't won since his triumph in "The Great American Race." In November 2013, he was diagnosed with multiple sclerosis so his health could be a reason for the cutback on seat time. However, Bayne said it hasn't impeded his ability to race when asked about it at this year's media tour in January.
"It has had zero implication on my racing," he said. "I don't really think about it unless it's an interview and somebody asks about it. My fitness is great, and I feel great in the car …"
Kenseth is the perfect fit for RFR. He knows how the organization operates and is familiar with a lot of its personnel. He's obviously an upgrade from Bayne, so perhaps the No. 6 will be more competitive the rest of the year. It could also be an opportunity to improve RFR's overall performance and make them a weekly contender again. It's no secret the team has struggled for the last four years.
It's not yet clear if Bayne or Kenseth intend to return to full-time racing after this year. A news conference is scheduled for Wednesday at the NASCAR Hall of Fame.
DISCLAIMER: Thoughts and opinions reflected are only those of the writer. Follow him on Twitter @JohnHaverlin
Photo: Chris Graythen/Getty Images