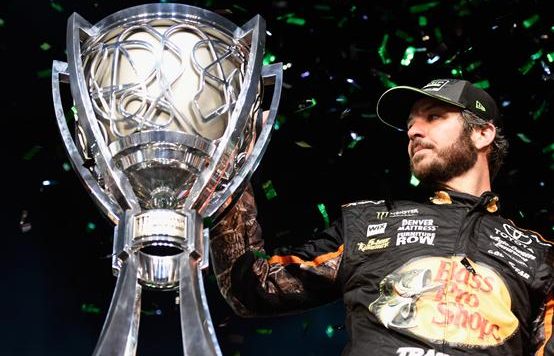 Haverlin's Hot Take: NASCAR's 'Monster Energy' era won't be remembered well
The NASCAR Cup Series has had three entitlement sponsors throughout its history; Winston (1971-2003), Nextel/Sprint (2004-16) and Monster Energy (2017-present).
Monster will probably be remembered as the worst of them all.
In an effort to gain a younger generation of fans, NASCAR and Monster partnered before the 2017 season as Sprint departed the sport. Sprint, at NASCAR's peak, paid roughly $60 million per year to sponsor the series.
Monster's cost is a little more than $20 million per year, and that isn't that much higher than the price to sponsor one highly-competitive Cup car.
When Monster signed the deal in December 2016, it was a two-year deal with an option after 2018. Earlier this week, the energy drink company resigned for 2019 but likely won't return beyond that as the sport will change its sponsorship model.
By the end of next season, all indications seem that NASCAR will be preparing to introduce another new series sponsor after three years with Monster.
Here's why their three years together won't be remembered well:
Monster was brought in to re-energize the NASCAR fan base. The hope was that younger fans would be attracted to the series' "edgy" — as NASCAR chairman has Brian France put it many times — new brand and therefore gain interest in the sport.
But the television ratings and track attendances continue to descend, and research by the Sports Business Journal in 2016 said that the average age of NASCAR fans had increased nine years since 2006. Granted — that study is now two years old, but don't think it's far off from what it would look like now.
Monster has also been criticized for the culture it brings. The Monster Energy Girls, who dress in titillating outfits at the track, have received backlash from some fans. Early in the 2017 season, some believed they dressed too sexy and that it objectified women.
While the controversy has since died down, it will remain a notable instance in Monster's NASCAR tenure.
Monster has also repeatedly requested extensions on the deadline that would make the company decide whether to continue to support the series beyond this year. NASCAR was gracious enough to grant their request each time, but it was obvious that Monster wasn't sure about its future in the sport. It also made NASCAR seem somewhat desperate to get a deal done as soon as possible. It just wasn't a good look for either side.
However, 2018 is still young, and perhaps Monster and NASCAR's partnership will blossom after a mediocre first season together. I'm sure both sides are always working to find ways to draw the most fan interest and get them involved in the sport.
There's also the entire 2019 season, which doesn't start for another 10 months. For what it's worth (and it's not worth much if anything), I haven't been impressed with the Monster Energy era of NASCAR, yet.
But there's still plenty of time for NASCAR and Monster to make things better and embrace the next 19 months together.
DISCLAIMER: Thoughts and opinions reflected are only those of the writer. Follow him on Twitter @JohnHaverlin
Photo: Jared C. Tilton/Getty Images