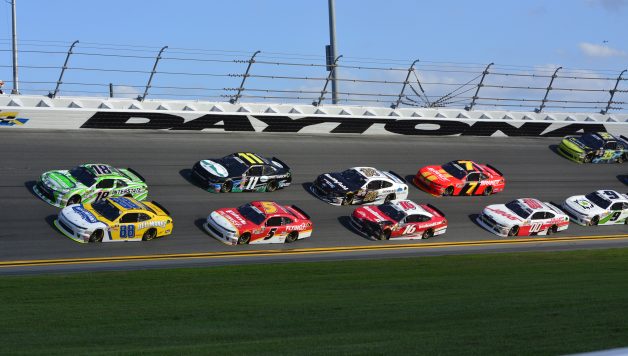 Haverlin's Hot Take: Will NASCAR ever shed its 'redneck' stigma?
No matter how hard it tries — even with the presence of non-white and female drivers — NASCAR still has the stigma of a southern, redneck sport to the average person. As a fan and a writer, it's frustrating to tolerate.
Historically, NASCAR has been a white man's sport. But it's become a more diverse industry over the years, whether people realize it or not.
Juan Pablo Montoya, a Columbian racer who formerly competed in Formula One, found moderate success in the Cup Series. During his seven full-time seasons with Chip Ganassi Racing, he won two races and finished as high as eighth in the standings.
Danica Patrick, who proudly represented an entire demographic of aspiring female racers, competed in the Cup Series for six seasons and ran the Daytona 500 last month. Her career stats aren't spectacular, but she's led laps in both the Indianapolis 500 and the Daytona 500. Not many people — man or woman — can say that.
Darrell Wallace Jr., the young hotshot driving for Richard Petty Motorsports, is half black and quickly caught the attention of fans when he finished second in his first Daytona 500, driving The King's famous No. 43 car.
And Daniel Suarez, a Mexican-born champion of the Xfinity Series, who competes with Joe Gibbs Racing is in his sophomore year and is already looking much improved from last season.
Multiple soon-to-be stars come from NASCAR's Drive for Diversity program — most notably Kyle Larson, who's won five races the last two years. His mother is Japanese-American.
In addition to the list of diverse drivers, NASCAR has discouraged the display of Confederate Flags at the tracks, which demonstrates the industry's desire for a liberal image.
But none of this seems to be enough. Television ratings continue to drop, and fans aren't coming to the races like they once did. Ten years ago, the economy was the easy scapegoat for this. However, attendances are still down today, and ratings are getting worse, so you can't blame the economy for that.
People are simply losing interest in auto racing.
Most of my closest friends aren't NASCAR fans, yet they all say the same thing about it. On Thursday, I asked Twitter what it would take for a non-racing person to become interested in NASCAR.
Someone responded, "More crashes and less incest." Ugh. I've been hearing these sort of snide remarks for nearly two decades.
The "more crashing" part I can understand — that's exciting to watch. But less incest? Come on. The sad thing is people still say NASCAR fans are a bunch of drunk, inbred hillbillies and unfortunately it might always be that way. Don't even get me started on the "driving in circles" jokes, which I loathe.
NASCAR can push its diversity program as much as possible and it probably still won't change people's views. Frankly, I can't think of what would make people feel it's not a southern, white sport. Nor do I know how to entice a new generation of fans. This makes me worry about what it might look like in 20 years.
We'll have to put our faith in the marketers who are promoting the 20-something-year-olds that are just at the dawn of their Cup careers. With any luck, NASCAR will transcend from its southern roots and become a sport that draws interest from everyone — no matter their skin color, gender or background.
DISCLAIMER: Thoughts and opinions reflected are only those of the writer. Follow him on Twitter @JohnHaverlin
Photo: Frank Romero