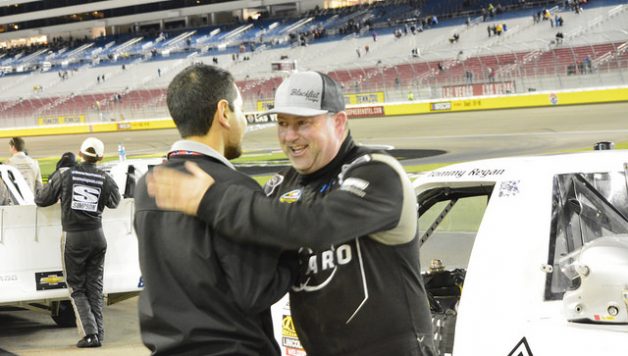 Trackside with Dominic Aragon: The Vegas experience
We know Kevin Harvick is strong, and his move to Stewart-Haas Racing in 2014 was arguably the best thing that's ever happened to him.

Three races into the 2018 season Harvick leads the Cup Series in wins (two), playoff points (13), stage points (40) and laps led (395).
Sample Size
Sirius XM NASCAR had been talking about it all weekend, and it has some truth.
Can we make a judgment now on which drivers are going to be fast and who's lacking speed?
They say we may need to wait until the Coca-Cola 600 in May to tell who is for real and who just got a fast start to the season.
Three races in, we've seen two 1.5-mile tracks, and the Fords have looked great. Ford drivers have led a combined 523 out of 592 total laps, or 88 percent of the last two races.
Team Penske drivers — Ryan Blaney, Brad Keselowski and Joey Logano — finished fifth, sixth and seventh respectively in Sin City.
Jimmie Johnson led the way for Hendrick Motorsports, posting a 12th-place finish. Before a crash, Chase Elliott was the top HMS driver, but the organization has looked like a mid-pack team this early in the year.
Tommy Regan
One of the lesser-known stories from the track this past weekend was the efforts of NASCAR Camping World Truck Series driver Tommy Regan.
Tommy is a Driver Analyst for The Racing Experts, and our staff has gotten a behind-the-scenes look at his journey back to NASCAR competition over the last six months.
Tommy made his first start of the Truck Series season at Las Vegas Friday night driving for Beaver Motorsports.
We had one of our photographers shadow the team and document his race through photos.
The race weekend didn't start off without some adversity, as Tommy experienced a flat left-front tire during qualifying. Despite the issue, he still out-qualified four other trucks.
Unfortunately for him, the same issue plagued his race three laps into the Stratosphere 200. His team had problems removing a lug nut on another flat right-front tire while his truck was on pit road.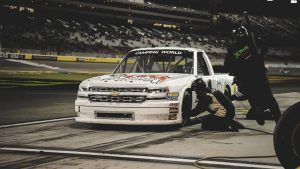 He re-entered the track 10 laps down.
As the race went on, Tommy started to pass other drivers as they fell out of the race. He ultimately finished 27th.
After he climbed out of the truck and had a minute to meet with his team, our photographers went to congratulate him on his race and for making the most of a situation out of his control.
Clarification
As a journalist covering motorsports, it's frowned upon to show favoritism or declare a favorite driver or team.
I don't have a favorite driver, and I think that makes it easier to cover a sport when you are not consistently cheering for someone.
In this case, the situation is a little different when the driver is someone you work with. I couldn't help but be excited to see his truck roll off the starting grid and see his name on the ticker during the broadcast.
I was happy for Tommy to be back behind-the-wheel of a race truck, knowing how he has been searching for funding to get back to NASCAR.
No doubt, his deal came together because of his talents and abilities as a driver, but people see his work ethic and dedication, and that is an inspiration in itself.
DISCLAIMER: Thoughts and opinions reflected are only those of the writer. Follow him on Twitter @DominicAragon
Photos: Dustin Lane & Chris Madrid