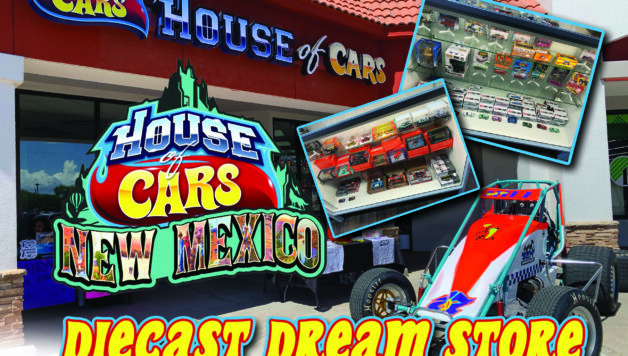 House of Cars is New Mexico's Diecast Dream Store
Published On August 21, 2023 |
Top Posts
By Spencer Hill
Photos Courtesy of House of Cars New Mexico
They say that every man's car collection begins with their first hotwheel or matchbox car. My story is no different, as I can still remember when I got my first diecast at what had to have been just 3 years old. What started as what I am sure was a quick way for me to give my parents a few moments of peace and quiet quickly turned into a giant collection that I still grow 23 years later. 
Diecast collecting has been around for decades, but the hunt for the rarest cars you can find on the peg continues to bring thousands of collectors together day after day. Whether it is facebook groups sharing their finds, or collector anxiously waiting for the newest release in their favorite scale and series, you can count on men, women, and children of all ages to still get excited when they find the perfect mini version of the automobile they adore. 
For years it was somewhat difficult to be a diecast collector in New Mexico. Stores would generally pop up, stay around for a couple years, then slowly slip into the abyss and become just another "remember that" business in New Mexico. 
Finally, there is another store in town that will give collectors something to be excited about. House of Cars New Mexico is owned by long-time collector, trader, and diecast guru, Oscar Mann. Oscar's love for the diecast world is obvious when you go and talk to him and he is always willing to help new and old collectors find exactly what they're looking for. Even if it means a special order to one of his vendors. 
House of Cars is relatively new to Albuquerque, so don't feel bad if you didn't know about it until just now. Oscar and his family opened up shop officially on November 5th, 2022 at 301 Coors NW Suite F Albuquerque, NM 87120. They carry the latest diecast from Matchbox, Hotwheels, Greenlight, ACME, Auto World, Mini GT, Fast Track Collectibles, Johnny Lightning, M2, Racing Champions, and hundreds of other brands including a nice selection from the motorsports world. 
The time has never been better to get into diecast collecting. It is a fun and inexpensive way to hold your dream car in your hands, or maybe introduce a new generation to love cars the same way you do.