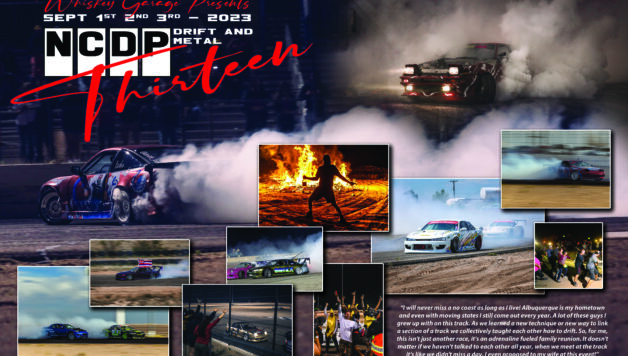 PHOTOS BY TMR MEDIA / N.C. MILLER PHOTO / NCDP
We are proud to announce the No Coast Drift Party 13 at Suika Circuit! Presented by 10 Tenths Motorsports, Valino Tires, Kansei Wheels and HQ Auto Spa.
There are a few changes this year, so please read up!!! NCDP is back in it's 13th form, stoked to be getting to say that! Pumped to announce we have some extra rad people coming this year, but thats a surprise for later. On top of that we will be filming the tail end of an episode of 'Runs Good' Saturday night for team tandem. So that gives one of the guests away.
Tickets here: https://www.whiskeygarage.com/pro…/no-coast-drift-party-13
The entire proceeds of this years No Coast are going into paying for sealing the rest of the small oval, and adding a new extension in that goes before the light pole to make the transition from small oval to big oval nice and smooth. I love you all.
I also have a ton of new Whiskey Garage merch that will be available only at the event.
– Spots along the power fence will have a reservation fee from now on. After dealing with what happened last year, these are limited and will go fast. If you are not reserved, I will make you pack up and move. You can reserve power spots here: https://www.whiskeygarage.com/pro…/no-coast-13-power-spots
– Out of state roll in is Thursday, everyone else, gates open Friday at 8am. NO ROLL IN MON TUES WEDS
– No spectator parking inside the gate, you can camp with your drivers, but keep cars out.
– NO BURNOUTS IN PITS, I personally have to pay for damage now.
– No open trailers in pits
#nocoast13 #ncdp13 #nocoast13prep
– Dan Brockett