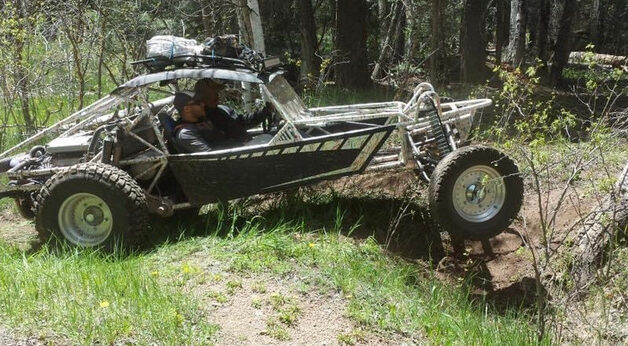 Sandi Raila
Published On March 21, 2023 |
Top Posts
By Drew Garcia
Larry Plake's Fugitive framed Sandrail is powered by a 1991 Mustang 5.0 HO motor. It is fuel injected with a T76 turbo. Plenty of power, with A-arms and power steering handling the frontend. Although this rail is street legal it still sees the dirt.
As a member of the Dezert Dogz Buggy Club the off-road trips include Jemez Mountains, Rio Puerco, Elephant Butte Lake, Mescalero Sand Dunes near Roswell, and the San Juan area in Colorado. You may have seen it in a few of the Albuquerque parades, even dressed up as a functioning Snow Globe for the Twinkle Light Parade one year. Its unique splatter painted frame was done via nail polish. 
Some like it, some don't, either way the off-road scratches are easy to repair. The balance between street and dirt makes for an exciting life for Sandi Raila.