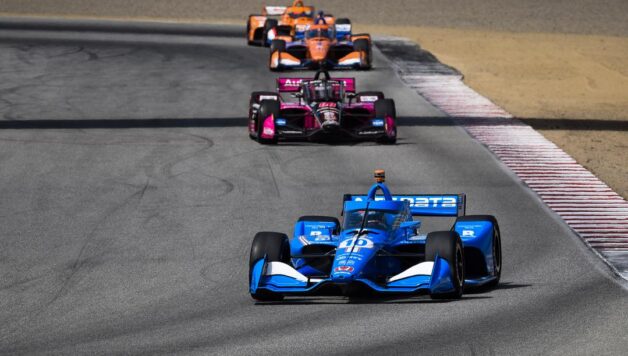 Recap: Through chaotic IndyCar Silly Season, Alex Palou resolves his career's future
Team Penske continued its winning ways in 2022. Josef Newgarden, Scott McLaughlin, and championship victor Will Power won nine of the series' 17 races and occupied three of the top-four places in the standings when all was said and done.

Six-time champion Scott Dixon was the lone non-Penske driver to finish in the top four. The Chip Ganassi Racing veteran won two races and one pole award while his teammate Marcus Ericsson won his first Indianapolis 500.

Sounds like a normal IndyCar season, right? Statistically, it was nothing out of the ordinary. But away from the track, there was loads of controversy surrounding Ganassi, Arrow McLaren SP, and 2021 IndyCar champion Alex Palou.

It all started with a statement on July 12 from Ganassi which said Palou would return to the team in 2023. About three hours later, Palou denied the statement and said the quotes used in the team press release were inaccurate. Shortly after, McLaren announced Palou to a deal that would begin in 2023.

Gentlemen, start your lawsuits.

Ganassi opened a civil lawsuit against Palou and his management team. The complaint said Palou was signed with Ganassi through 2023, but Palou wanted to pursue a different opportunity with McLaren, thinking it could lead to a seat in F1.

Palou continued to race with Ganassi, despite being sued by his own employer. Meanwhile, Alexander Rossi signed with AMSP for 2023 and Patricio O'Ward would be retained to continue his IndyCar career. Felix Rosenqvist's future became uncertain. He wanted to remain with AMSP, but it was looking less likely as Palou's potential entrance to the team would make the Swedish driver the odd man out.

AMSP knew it would expand to three full-time cars in 2023. With two seats taken, who would get the third? The idea of Rosenqvist departing IndyCar and returning for a second stint in Formula E seemed plausible as McLaren was acquiring Mercedes' team in the electric racing series.

Palou won the finale at Laguna Seca for Ganassi, and he embraced his team owner in Victory Lane. The Spanish driver announced that he would race for Ganassi in 2023 after all, but does plan to join McLaren eventually. He ran a practice session for McLaren's F1 team at the United States Grand Prix in October, and he is expected to join McLaren's IndyCar team in 2024.

Rosenqvist will stay with AMSP in 2023. All-in-all, nothing around Palou's situation changed during the two-month legal saga. An unusual whole bunch of nothing, wasn't it?

Editor's note: This piece will appear in the next edition of the New Mexico Motorsports Report magazine.
Top photo: James Black of Penske Entertainment