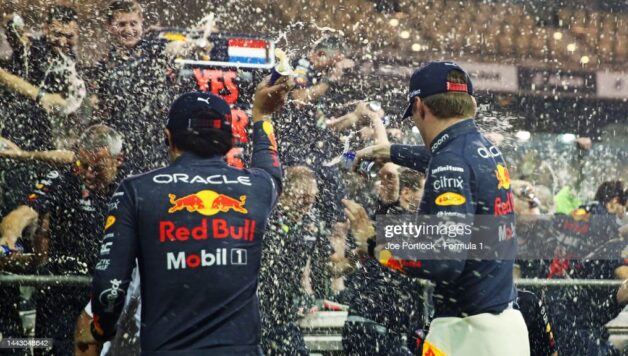 Recap: Max Verstappen, Red Bull dominate F1's 2022 season as popularity growth continues in U.S.
It's been Max Verstappen's world, and we're all just living in it.

The 25-year-old Dutchman repeated as Formula 1 world champion in 2022 after winning his maiden title last season. He and the Red Bull Racing team swept the Driver's and Constructor's Championships with the help of Mexican veteran Sergio Perez, who finished third in the standings.

It marked the first time since 2013 that Red Bull and one of its drivers took both titles from the F1 grid. It was last done when Sebastian Vettel clinched his fourth consecutive championship with the team in his penultimate season with it before his move to Ferrari.

Verstappen won 15 of the 22 Grands Prix and finished 146 points ahead of runner-up Ferrari driver Charles Leclerc. After winning the Constructor's Championship for eight straight seasons, Mercedes took an unexpected step back and finished third in the standings. George Russell, in his first season with the team, won his first race at the Sao Paulo Grand Prix but finished behind both Red Bull drivers as well as Leclerc in points.

Lewis Hamilton finished sixth in the standings and failed to win a race during the season for the first time in his 16-year career. Statistically, it was the worst season he's ever had, as he never secured a pole, finished outside the top five in points for the first time, and led a career-low 46 laps throughout the season.

Looking ahead to 2023, the grid will have a drastically different appearance. Vettel has announced his retirement from F1 and Fernando Alonso will take his place at Aston Martin. Pierre Gasly will take over Alonso's seat at Alpine, and Daniel Ricciardo will reunite with Red Bull to be the team's reserve driver. McLaren will replace Ricciardo with incoming rookie Oscar Piastri, who won the 2021 Formula 2 title.

Nico Hulkenberg will return to full-time competition as he pairs with Kevin Magnussen at Haas. Mick Schumacher and Nicholas Latifi will not be on the grid, and for the first time since Alexander Rossi's brief stint in 2015, the United States will have representation in motorsports' top series as Logan Sargeant joins the Williams team.

F1 set TV viewership records again this season in the U.S. as ratings were up 28% from 2021. Next year, the series will have three races in the States: Miami, Austin, and Las Vegas.

Editor's note: This piece will appear in the next edition of the New Mexico Motorsports Report magazine.
Photo by Joe Portlock – Formula 1/Formula 1 via Getty Images