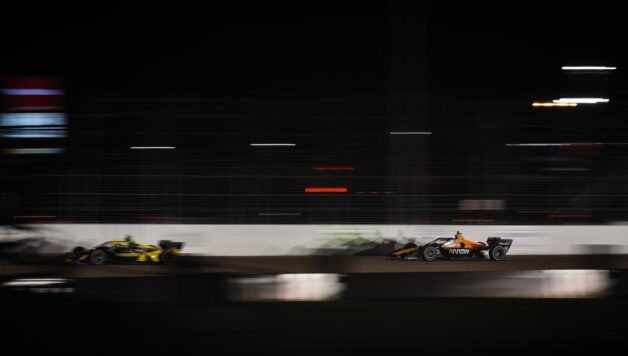 IndyCar stars Colton Herta, Pato O'Ward eyeing F1 careers; can it happen?
Editor's note: This column will be featured in the June 2022 edition of the New Mexico Motorsports Report magazine. Photo credit: James Black of Penske Entertainment.
Colton Herta and Patricio O'Ward have a lot in common.

Both are young stars in the NTT IndyCar Series, born 10 months apart. They moved up the American open-wheel ladder together, driving for Andretti Autosport in Indy Lights, and dominated in it. Of the 17 races during the 2018 season, they combined to win 13 of them.

In January, they were teamed up and won the LMP2 class with DragonSpeed Racing at the Rolex 24 at Daytona. And now, three months into the IndyCar season, both are race winners with career changes on their radar.

McLaren CEO Zak Brown has expressed interest in both drivers getting seat time in Formula 1 cars. O'Ward tested a McLaren F1 car in Abu Dhabi at the end of the 2021 season. Brown promised O'Ward, who is one of his IndyCar drivers for Arrow McLaren SP, a test if he won a race in 2021. O'Ward won his first IndyCar race at Texas Motor Speedway and followed it up with another victory at The Raceway at Belle Isle six weeks later.

Brown has referred to O'Ward as a "young Montoya" but has reiterated that he wants the Mexican to be focused on IndyCar. He's 23, and he has plenty of his racing career ahead, so he shouldn't worry about getting into F1 immediately.

Herta, the son of former Indy racer Bryan and phenom for Andretti, seems to be the U.S.' best hope for an American F1 driver right now. With American interest in F1 rising as a result of the popular Netflix docuseries "Drive to Survive," fans have been vocal about the desire for an American on the grid. Alexander Rossi was the last American to compete in a Grand Prix — he made five starts with the now-defunct Manor Marussia F1 Team in 2015. But his tenure was less than stellar and largely unnoticed, with a best finish of 12th.

The Herta family is primarily known for its history in Indy car racing, but there is some familiarity with F1, too. Bryan Herta tested a Minardi F1 car in England in 2002. Twenty years later, Colton will do similarly as he will get the opportunity to drive McLaren's 2021 MCL35M car. It finished fourth in the Constructor's Championship last year.

Herta's name has been mentioned not only with McLaren but with Andretti, too. Michael Andretti has been pushing to start an F1 team for nearly a year, and obviously, Herta would be a perfect fit with the team if it were to come to fruition.

Andretti and Herta were both present at the Miami Grand Prix in May. Andretti spoke to all 10 team principals throughout the weekend to get their blessing of starting an 11th team for the grid. He collected signatures from team bosses who supported his venture during the four-day event.

O'Ward is still signed to a multi-year deal with AMSP, so it will take a little longer for him to make the jump across the Atlantic if he ever gets the chance to be an F1 driver. And McLaren already has two quality drivers in its F1 cars named Lando Norris and Daniel Ricciardo.

Norris is signed through 2025, so there is already one seat that will be occupied for a few more years. Ricciardo, on the other hand, is looking to find his footing again in F1. He experienced success with Red Bull early in his career but left for Renault (now Alpine) with hopes of having a long-term relationship with the French squad and winning his first world championship.

Ultimately, it didn't work out for Ricciardo in his time there. He was a Renault driver for two years and scored only two podiums with a best points finish of fifth in 2020.

When Carlos Sainz Jr. departed McLaren for Ferrari, Ricciardo replaced him, and it seemed like the perfect place for him to rejuvenate his career. It hasn't happened, though. Yes, Ricciardo won the 2021 Italian Grand Prix, but he ended up eighth in the standings, and the victory is his only podium to date with the British team.

Several weeks ago, Herta made comments that ruffled the feathers of fans and followers of the sport, but it wasn't intended to be hurtful.

"If (Ricciardo) continues to build, I probably won't have that [F1] opportunity, but hopefully Lando kicks his ass a bit more, so I can at least have a shot," he said.

Herta doesn't wish ill on Ricciardo, although it is understandable to think that after this remark. Norris has outperformed the Australian consistently, and if there were to be a McLaren seat that becomes available in the near future, it'd clearly be the one occupied by Ricciardo.

Ricciardo is signed through at least 2023 and has an option beyond that. So Herta and O'Ward could be in play for the seat in 2024. However, if Andretti can start its own team, then this situation becomes a moot point.

Are Ricciardo's days numbered? Will both Herta and O'Ward make it to F1? Will Andretti be able to start an F1 team? It won't happen overnight, but these are questions will be answered in the years to come.