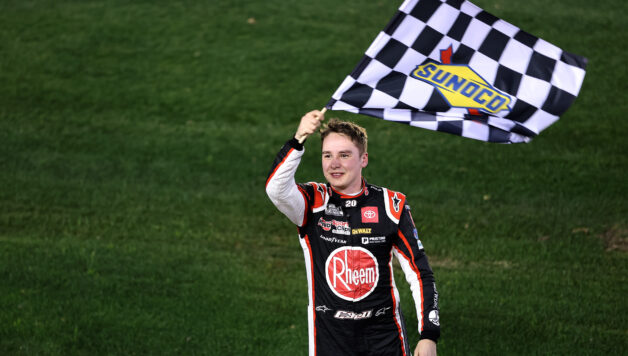 Christopher Bell starts his sophomore season in Cup strong with Daytona Road Course win
Christopher Bell had one year of NASCAR Cup Series experience under his belt entering the 2021 season. He competed with the now-defunct single-car Leavine Family Racing team for his rookie campaign. Although it was aligned with the Toyota powerhouse organization of Joe Gibbs Racing, he wasn't contending for wins on a weekly basis.

This year, the expectations changed. He got the nod to drive the No. 20 for JGR, which meant it is time to start winning.

Two weeks into the season, he's already done it. 

Bell won the Daytona Road Course race on Sunday. He overtook Joey Logano with a lap and a half to go. Bell, who grew up in Oklahoma racing on dirt tracks across the country, won at the last type of track he'd expect to earn victory No. 1 at — a road course.

It was a surprise win, for sure. Bell's teammate Denny Hamlin said so and believed most people would agree with the sentiment.

"Who really expected it, right?" Hamlin said. "I think you would say based on history; he definitely could run in the top 10 and top five. But certainly, once he got the track position, it was like three or four laps. I was like, wow, he's got great speed.

"But again, he's got an experienced crew chief (Adam Stevens) there that has been doing this a very long time, who is very, very good."

Ever since Bell started racing at the national level in NASCAR, he's made an effort to improve his ability to race on road circuits. His strength is dirt racing. Shifting up and down while turning left and right wasn't his forte.

"It's just seat time and experience and doing it," Bell said. "They're a lot of fun. … Last year, I guess the two years in Xfinity [Series], we got a bunch of road courses run, so that probably helped me out a lot. This year we got (seven) of them, I think so better get good at it."

Chase Elliott led a race-high 44 laps, and he's been the most dominant driver on road courses the last two years. But a caution came out with 15 laps to go because of a light sprinkle of rain, and it ruined the strategy for him.

"When you have those late-race cautions like that, and you have a mixed bag of who stays and who goes, it's a bit of a gamble, either way," Elliott said. "I thought tires was the right move. Tires won the race, so I think it was the right move. You get back in traffic, and it just gets to be so chaotic, and then just depending on who gets through and who doesn't kind of determines how it's going to shake out."

NASCAR has started its season with two first-time winners. Michael McDowell won the Daytona 500 last weekend for Front Row Motorsports. He and Bell will likely make the playoffs come September.

NASCAR's next race will be at Homestead-Miami Speedway. Points leader Hamlin is the defending winner at the 1.5-mile track.
(Photo by James Gilbert / Getty Images)