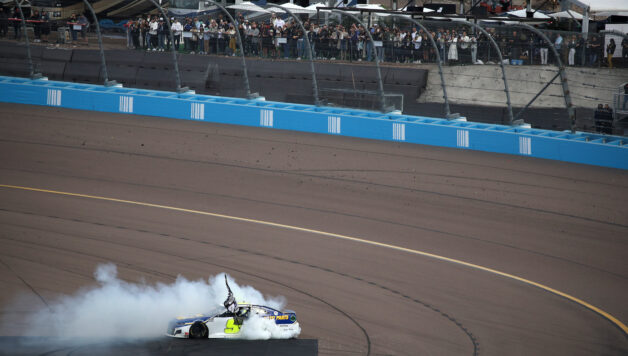 NASCAR's tumultuous, yet memorable season, concludes with a title by its most popular driver
AVONDALE, Ariz. — In what was NASCAR's strangest and most difficult season in history, the championship ended in arguably the best way possible — with the sport's most popular driver winning his first title.

Chase Elliott, 24, is the son of NASCAR Hall of Famer Bill, who was one of the faces of the sport through the 1980s, '90s, and into the 2000s. He replaced Jeff Gordon when he retired from full-time NASCAR Cup Series racing after 2015 and was instantly a fan favorite.

On Sunday at Phoenix Raceway, he captured the title in a memorable finale to the 2020 season.

The race itself was a landmark event: it was the final race for Elliott's Hendrick Motorsports teammate and seven-time champion Jimmie Johnson, as well as Clint Bowyer and Matt Kenseth. It was the first time Phoenix hosted the Championship 4 event. And when Johnson gave Elliott a congratulatory bump with their cars on the cool-down lap, it was a symbolic passing of the torch.

Elliott won five races in 2020 — three of them coming in the calendar's final five events. And this is still just the beginning. He's going to be around for probably another two decades.

"He's a young guy. I think he's going to win a lot of [championships]," team owner Rick Hendrick said. "Seven is a big number, but that is something to shoot at. … I think he's got a lot left in his tank."

NASCAR had a difficult year as it navigated through the COVID-19 pandemic. But the sport was in the national spotlight several times in 2020:

1) Longtime NASCAR supporter President Donald Trump attended the Daytona 500, and Ryan Newman crashed coming to the checkered flag in The Great American Race. He was hospitalized, and the country rallied around the 2008 500 champion, who was released just two days after the horrifying wreck.
2) NASCAR stormed onto the esports environment when the pandemic began in mid-March. Almost the entire Cup field participated in televised iRacing events on Sundays to fill the void before real racing could resume.
3) Two months after the pandemic began, NASCAR was the first sport to resume its season. Over the following weeks, the industry ran shorter races with no practice or qualifying and even experimented with mid-week shows.
4) After the tragic death of George Floyd, Bubba Wallace led NASCAR's anti-racism movement. He was a vocal supporter of #BlackLivesMatter, and it led to the banning of the Confederate flag on NASCAR property. Shortly later, the noose scare at Talladega Superspeedway occurred, and drivers stood at Wallace's side and expressed their support on social media.
5) NBA legend Michael Jordan was rumored to be interested in NASCAR team ownership this summer. The rumor eventually came to fruition, and Jordan, along with longtime friend Denny Hamlin, formed 23XI Racing. Wallace was announced as the driver, and the team is expected to be a competitive opportunity as it is aligned with Joe Gibbs Racing and Toyota Racing Development.

When all was said and done on Sunday afternoon in Arizona, drivers took time to reflect on the unprecedented but successful season NASCAR had.

"If you can get through a year like this and you're NASCAR, certainly it bodes well," said title runner-up Brad Keselowski. "The only thing left was an asteroid strike.

"I thought it was really amazing what the sport was able to achieve, that we were able to get all the races in. To be here today and have a great race for a championship, I think that's really impressive. And NASCAR maybe doesn't get enough credit for being able to pull all that off, considering the landscape.

"I think there's no shortage of us, including myself, that are quick to criticize, but I think we should also be quick to applaud for everything that's happened this year and then to be able to pull all this off, run all the races and do it at a high level."

"The year has been in short, I would say extraordinary, although I could probably use 15 or 20 other words to try to get to something," said NASCAR President Steve Phelps. "It's just unprecedented in the history of our country, in the history of sports, and certainly in the history of our sport. I would suggest this is the single most difficult year that we've faced as a sport."

NASCAR experimented a few times with ideas that have floated around for several years. The spring Martinsville race was run on a weeknight. Essentially every race after the pandemic hiatus was a one-day show. Shorter races were run. There were additional doubleheader weekends — including one with IndyCar. And the Daytona road course was used for all three national series as well as ARCA.

"I think what we've proven this year is that you can do things differently, and they can work," Phelps said. "What we're in the process of doing right now is looking at what that race day experience is going to look like, or race weekend experience is going to look like.

"I think there are things both from a competition standpoint, as well as a fan standpoint, sponsor standpoint, where we are going to reinvent ourselves, take the best of what we had during this COVID situation to make ourselves stronger in the future."

So, when the checkered flag waved at the end of the Season Finale 500, the face of the sport became the champion. However, Elliott doesn't feel it is his place to say whether or not his popularity will boost NASCAR's popularity, and what he can control is his job of performing on the track.

"I don't know that that's really for me to say who is or isn't the face of something," Elliott said. "But from where I sit, it's the performance industry, right? It's entertainment from the outside looking in, but what makes my living is performing or not.

"I think me performing at a high level is going to take me a lot further in life than being the face of something. My focus is on doing my job, and that's to drive a car to its full potential every week as long as I'm hired to do so."

Elliott's championship undoubtedly is a positive thing for NASCAR, though. The last time the most popular driver won a title was 1988, and it was his father, Bill. Even during NASCAR's peak in popularity during the late 1990s and early 2000s, Dale Earnhardt Jr. never reached the sport's apex.

NASCAR is in the midst of a transitional period. It is changing how the business works as it plans to use the Next Gen car in 2022. New team owners are coming in, including Jordan, Justin Marks, Matt Tifft, and B.J. McLeod. The crop of young drivers is performing well and Kyle Larson is replacing Johnson after losing his seat at Chip Ganassi Racing in April after using a racial slur during an iRacing event. Of the three champions at Phoenix this weekend, Elliott was the oldest, and he is only turning 25 later this month.

NASCAR's presence in the sports media landscape was as large in 2020 as it has ever been, and it's only going propel the sport back to relevance again after a decade of declining TV ratings and grandstand attendances.

NASCAR has lost star power over the last five years as Jeff Gordon, Earnhardt, Danica Patrick, Tony Stewart, and now Jimmie Johnson has retired. But the next generation is here, and they are going to be around for a long time.

Despite everything that has happened in this tumultuous year, Phelps said this: "I believe we are stronger as a sport today than we were pre-COVID."
Photo: Christian Petersen / Getty Images