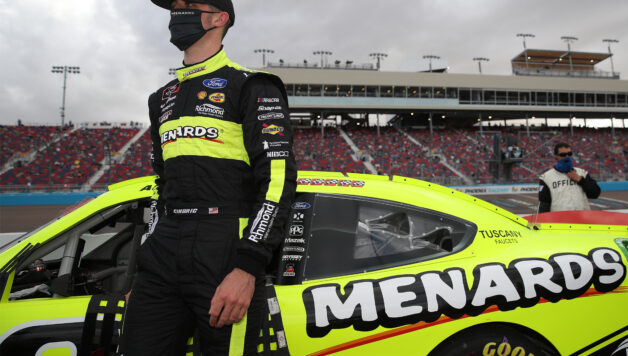 In his breakout season, Austin Cindric clinches Xfinity Series title with Phoenix win
AVONDALE, Ariz. — Austin Cindric has been a full-time driver in the NASCAR Xfinity Series for three years, and on Saturday, he won his first series championship.

Cindric, 22, is the son of Team Penske president Tim Cindric and he drives the No. 22 for Penske. One might suggest nepotism is apparent in this situation — especially because Austin wasn't particularly great his first two seasons. But he was asked about it after winning the Desert Diamond Casino West Valley 200 and said the thought never even crossed his mind this week.
"I guess it's not in the forefront of my mind, but as far as my own perception or the perception of others, obviously we've gone out here and done everything there is to do in the Xfinity Series this year," Cindric said. "We've gotten six wins, we've gotten both championship trophies. For me and my team, that's all we need."
He had a breakout year in 2020 with victories on various types of tracks. He earned a reputation of being a talented road course racer but less-than-stellar on the ovals in his young career. However, this season, he earned his first oval win at Kentucky Speedway and clicked off three more oval victories before the season's end.

Team owner Roger Penske said there was a concern about potentially shutting down the Xfinity team when the COVID-19 pandemic began in mid-March. He and Tim Cindric weren't sure of what laid ahead for them, and they considered skipping a few races. Had that happened, Cindric would never have had the opportunity to even make the playoffs.

He knew that he had to prove himself this year, though, and Penske gave him the equipment he needed to succeed. Team Penske has been dominant in the Xfinity Series for years, and Cindric continued the team's success.
"When I started I made a lot of mistakes on a national level and got told by a lot of people about all the things I do wrong, and this year it's been overwhelmingly supportive, and that's been kind of cool to experience," Cindric said. "I'm not somebody that reads too many of the comments or anything on social media, but everything that I do see on the things that I post and the people that loyally follow me, it's pretty satisfying to know that I've come that far.
Cindric held on to win at Phoenix Raceway despite a late caution caused by a spinning Chase Briscoe. Briscoe and Cindric, who were Roush Fenway Racing teammates for a miserable 2018 season were the most dominant drivers this year. Together, they combined for 15 wins.

Both drivers can enter the offseason feeling optimistic, though. Obviously, Cindric won the title and proved that he can win on more than just road courses. He will spend another year in the Xfinity Series but does already have his first full-time Cup ride in place for 2022 as he will join the Wood Brothers Racing teams.

Briscoe will graduate to the Cup Series next year and replace the retiring Clint Bowyer in the No. 14 Ford for Stewart-Haas Racing. Although Briscoe's nine-win season wasn't enough for a championship in the elimination-style playoff format NASCAR uses, he knows that he can still hold his head high as he enters his rookie campaign.
"It's nice to know that I'm going to the Cup Series and all these things, but it sucks to run fourth in the championship after the year that we had, but that's how it works," Briscoe said. "I didn't execute and they did a better job, so go on to next year. It's gonna be an uphill battle all year long, but looking forward to the challenge."
For Cindric, he will have the chance to be a repeat champion just as Tyler Reddick did last year. He will also make select starts in the Cup Series before running the entire schedule in 2022. 
Photo: Chris Graythen / Getty Images