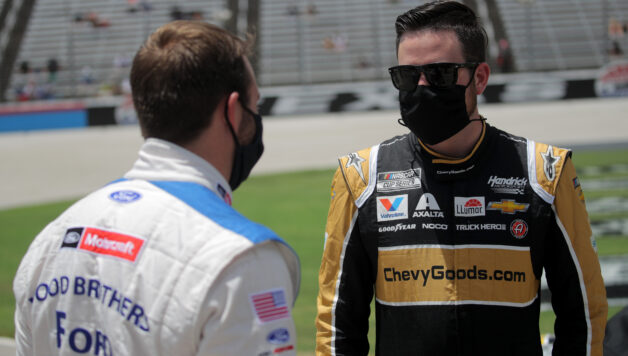 As NASCAR's season winds down, Silly Season continues to ramp up
The NASCAR Cup Series Silly Season became clearer this week as it was announced that Alex Bowman will switch from the No. 88 to the No. 48 for Hendrick Motorsports, Justin Marks' new team, Trackhouse Racing, will make its debut with Daniel Suárez in the No. 99 Chevrolet, and Matt DiBenedetto will remain in the Wood Brothers Racing No. 21 Ford in 2021.

Ally will sponsor Bowman, and now the question is, who will take over the No. 88? For Trackhouse, the team will be affiliated with Richard Childress Racing and lease the No. 77 charter from Spire Motorsports to compete full-time. And Team Penske protegé Austin Cindric will take over the No. 21 in 2022 while making select starts in the 2021 Cup season.

So, how has all this news has created new questions? Kyle Larson is the favorite to be the fourth driver at Hendrick, but how soon could that be announced? And what sponsors could support the driver who lost everything in his NASCAR career after using a racial slur during an iRacing event six months ago? The No. 88 has had several sponsors throughout 2020 due to the business-to-business relationships team owner Rick Hendrick has with companies like Cincinnati Inc., Llumar, and Chevrolet Accessories.

Larson doesn't bring personal sponsorship, and it would take the convincing of Mr. H to attract partners for the 28-year-old, who has been on a tear with dirt track victories across the country all summer. Larson is a rare talent, and he deserves to be in NASCAR.

Trackhouse's entrance into the Cup Series is a welcome one. NASCAR has needed new team owners for years as the current ones climb higher in age. Marks, 39, as well as the Denny Hamlin and Michael Jordan team that will field an entry for Bubba Wallace, are exactly what the industry likes to see.

With Trackhouse, though, comes the confusion that is the Charter System puzzle. The team is using Spire's No. 77 charter, but Spire will still run two full-time teams. It will acquire the charter from Leavine Family Racing, which is leaving NASCAR at season's end, and says it has gained a third one. It is unknown what team the third charter comes from, but Jenna Fryer of the Associated Press has suggested it could be the No. 37 JTG-Daugherty Racing charter.

This charter talk gets messy, and it isn't easy to follow which team controls which charter. Organizations like Front Row Motorsports and Rick Ware Racing seemingly swap charters every year, and it just makes fans wish the system didn't exist due to its complexity.

The No. 37 car's future is unknown. It is unlikely that Ryan Preece, who has endured a miserable season, will return. Erik Jones, a free agent who doesn't bring sponsorship, could be a fit for the ride since it already has funding in place. However, if the charter is going to Spire and not being replaced, that likely means the No. 37 doesn't even run at all in 2021.

DiBenedetto made the NASCAR Playoffs in his first year with the Wood Brothers. He's a fan favorite that's come painfully close to an elusive first win several times this year, and he'll get another chance to run with this top-tier ride next year.

"It's such an honor to be able to continue to drive for Wood Brothers Racing and have another year to grow with this organization," DiBenedetto said in a Thursday press release. "I am excited to learn from our 2020 notebook, and I'm confident that with a full season under our belt and working together as a team, we will produce even better results. I also want to thank Ford Performance and Team Penske for their efforts in making this happen.

"These types of decisions take a lot of time, as we all know, there are a lot of factors in play. All three groups want to make the best decisions for everyone involved, and I'm appreciative to have the opportunity to continue to compete for such a legendary race team."

Still to be determined in the 2021 Cup field is the driver of Go Fas Racing as free agent Corey LaJoie departs the No. 32 after two seasons. Front Row and Richard Petty Motorsports have not yet announced driver lineups for next season, but one must believe Ty Dillon and LaJoie are in play for the No. 43 RPM seat.

A month remains in the 2020 NASCAR season, and while the championship winds down, the always compelling Silly Season will continue to ramp up. 
Photo: Chris Graythen / Getty Images