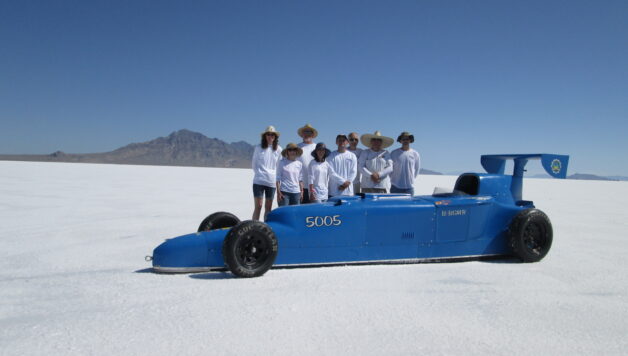 By Lyle Greenberg
You might be surprised to find out that the fastest car based in the state of New Mexico is not a nitromethane powered funny car or a turbocharged Pro Modified, it is a Chevrolet LS-powered 1927 Model T roadster. For eight years, Joel Wirth and his family have been developing a boosted LS combination, steadily improving their performance at the Bonneville Salt Flats. There are typically only two events each year at the salt flats, which is the center of the land speed racing universe. That means Wirth does not get very many opportunities to test changes that are made. But in August 2020, he put in his best performance yet, setting the world record for his class at 287.390 mph. This was actually an average over two runs and doesn't reflect the absolute top speed the car achieved of 297+ mph.
This car that went nearly 300 mph is a technological marvel. It is classified as a B/Blown Gas Modified Roadster. The "B" designation is based on the size of the engine (373 to 439.99 cubic inches). The "Blown Gas" signifies that the engine runs on gasoline with a supercharger or turbocharger power adder. Although the bodywork is based loosely on a 1927 Model T roadster, that is purely cosmetic and has been highly modified for aerodynamic effectiveness. The chassis itself is a purpose-built maze of tubing, designed to not only allow high speeds but be safe in the event of a crash. The power plant is a 434 cubic inch, electronically fuel-injected, single 116 mm turbocharged LS-based engine. One of the biggest challenges that Wirth has successfully solved is keeping the engine cool and keeping head gaskets intact in this high boost environment that the Chevrolet LS engineers never contemplated.
A boosted gasoline engine is notorious for making huge amounts of heat that can easily cause detonation that could result in parts breakage. Wirth designed and built a 28-gallon water cooling system that was then adapted to cylinder heads from Bob Williams at All Pro Aluminum Cylinder Heads in Ohio. The system works great as the coolant temp is at 190* after 5 miles of wide-open throttle. The design of the car does not allow any airflow that might assist in cooling, so as to not impede the aerodynamics of the car. The transmission is a 5-speed G-Force unit. On the record runs, the car never got out of 4th gear. The car has considerably more potential! The car has two separate computer systems, one to manage all the car's powertrain and another to log data for post-run analysis. Other shops and manufacturers that have played crucial roles include Courtney Hines and his Flash Automotive shop in Albuquerque and California-based Mezeire Enterprises. Wirth receives sponsorship assistance from T.J. Maloy at WaterJet Cutting in Albuquerque.
The evolution of the car has been interesting. In 2012, Wirth bought the car that had been sitting unused for some time. The car was a solid platform to get their feet wet in land speed record competition. They ran it for a couple of years and then set about making major changes to improve the performance substantially. In 2015-2016, the team did a complete rebuild of the bodywork to improve the aerodynamics. With the car now handling better, the focus shifted in 2017-2018 to the engine and a concerted effort to make more power. This was clearly a success as they set the class record at 276 mph in 2019, before upping it again in 2020 to the 285 mph mark that they most recently set.
Racing at the Bonneville Salt Flats is an enormous logistical challenge. It is truly almost like being on another planet. There is no sign of civilization other than the race cars and support equipment. It is unbelievably hot, sapping power away from internal combustion engines, both boosted and normally aspirated. There are no nearby parts stores or anything else for that matter, so the racers must bring everything they might need. The vast expanse of the salt flats is hard to describe. Your pit area might be several miles from the start line, so you need to have support equipment with you when you bring the car up for a run. Wirth fabricated a support trailer that he uses to transport the car to the start line and return the car to his pit area after each run. The trailer has everything he needs and was constructed so that it fits inside his bigger trailer that transports the car during highway travel. This trailer is always a popular attraction in the pits as other racers see the logic and utility of its design.
The preparation and operation of the car is a family affair that includes Joel's parents, Jack and LaVerne, along with his wife, Diane. Additional assistance comes from Ron DelCourt, John, Jeff and Lisa Dinges, and Laura Menne. Wirth and his crew will spend a few days savoring the new record and then start working on changes that might send the car over 300 mph at the next Bonneville event.
Featured photo at top by Jack Wirth