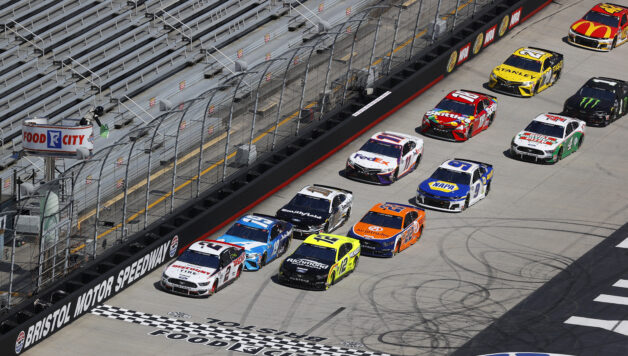 In wake of George Floyd's killing by a Minneapolis police officer on May 25, cities across the country have been raging with Black Lives Matter protests throughout the week.

Auto racing is a predominantly white industry, but the minority members of it have been the first to speak out, including NASCAR drivers Bubba Wallace and Daniel Suárez.
https://twitter.com/BubbaWallace/status/1265649929701244928
I feel pain, disappointment & anger everytime I see the horrible video of George Floyd pleading for his life.
He deserved better, black people deserve better, humanity deserves better.
We live in the 21st century. When will racism & prejudice stop?#justiceforfloyd #icantbreathe pic.twitter.com/jYBsiEaKjQ

— Daniel Suárez (@Daniel_SuarezG) May 28, 2020

Formula 1's Lewis Hamilton, a half-black driver, called upon his fellow drivers to speak and criticized them for being silent in his Instagram story.
On Sunday morning, Ty Dillon posted about racial injustice and said he acknowledges that he'll never understand it as a white man.
https://www.instagram.com/p/CA2juFHpJZ0/?igshid=vb9v4rizlhjj
The majority of NASCAR drivers haven't made a statement. Why? Could it be they fear to say something that agitates a fanbase that is known for flying Confederate Flags? Being silent is no longer a political stance at this point — it a sign that you don't care about those that suffer from racism.
"I've watched it all," NASCAR champion Jimmie Johnson said about the protests being on the news. "The circumstances are just crazy and unacceptable. I am for protesting, peaceful protesting. I hope there's more of that tonight. I know there are concerns, especially in the Charlotte area, near my home, that they will be protesting tonight.
"The message needs to be clear, but I think being peaceful is really the right way to send the message here. I hope everybody stays safe."
F1 drivers have started using their social media platforms to express support for racial equality. Ferrari's Charles Leclerc said he initially felt uncomfortable about sharing his thoughts but tweeted a thread on Sunday night.
"To be completly honest, I felt out of place and uncomfortable sharing my thoughts on social media about the whole situation and this is why I haven't express myself earlier than today.," he tweeted. "And I was completely wrong."
I still struggle to find the words to describe the atrocity of some videos I've seen on Internet.
Racism needs to be met with actions, not silence. Please be actively participating, engaging and encouraging others to spread awareness. 2/3

— Charles Leclerc (@Charles_Leclerc) May 31, 2020
"We all have a voice to speak up for what's right – and until now I didn't know how to use mine in this situation. To echo
@Charles_Leclerc's words, I just felt out of place sharing my thoughts on these atrocities publicly.," Williams F1 driver George Russell tweeted. "I struggle to comprehend what I'm seeing in the news and on social media right now – and honestly, I still can't find the words to express how it makes me feel. But ultimately, no matter how uncomfortable it may be to speak out, silence achieves nothing.
"Now more than ever, we need peace and equality in this world. It's time we all stand together and kick racism out of our societies for good. Use your voice, spread awareness as far as you can. We're all responsible for ending the injustice."
Richard Childress Racing rookie Tyler Reddick said: "I hurt with you and I stand with you" in a tweet on Sunday night.
I want to let everyone know out there, I hurt with you and I stand with you. #BlackLivesMatter #ICantBreathe #GeorgeFloyd #JusticeForFloyd #SystematicOppression pic.twitter.com/45HSXYvwlP

— Tyler Reddick (@TylerReddick) June 1, 2020
On Monday morning, Mercedes AMG F1 team tweeted its support of its driver, Hamilton.
June 1, 2020
Photo: Kevin C. Cox / Getty Images