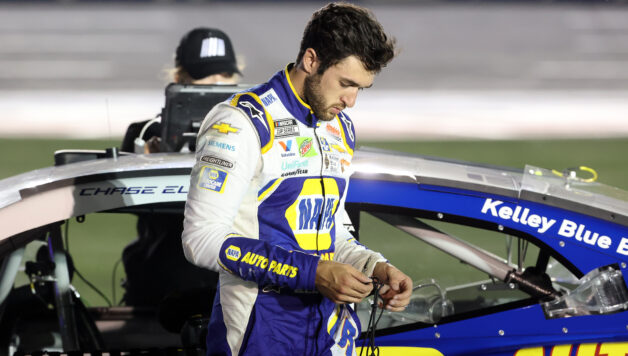 The results don't show it, but Hendrick Motorsports is back on top
Until there were three laps to go in the Coca-Cola 600 on Sunday night, it looked like it was going to be all Hendrick Motorsports upfront.
Chase Elliott had a comfortable lead in the closing laps. Alex Bowman and Jimmie Johnson were in the top-five, and Bowman won the first two stages. The team led 208 of the 405 laps. But it all went wrong when William Byron's left rear tire went down and brought out the caution.
Byron was in the top-10 but ended up finishing a lap down in 20th. Bowman had a bad overtime restart and fell to 19th. Jimmie Johnson crossed the line second when the checkered flag waved for Brad Keselowski but was disqualified for failing post-race inspection. The rear alignment of his car didn't meet the standards of the optical scanning station.
"It's the same thing that we check at least a handful of cars for post-race after every event," NASCAR Cup Series Director Jay Fabien said. "I can't really give specifics on the numbers. Yes, there is a pre-race number and a post-race number that does give a pretty decent tolerance. It was outside of those post-race numbers."
Then there's Elliott, who deserved the win but had it taken away because of a teammate's incident and a poor pit strategy. He pitted from the lead under caution while most other drivers stayed out.
"Damned if you do, damned if you don't," Elliott said after the race. "Just trying to make the best decision you can and those guys are going to do the opposite of whatever we do. That's just part of it. You make decisions and live with them. It wasn't the pit call – I think being on offense is fine. Like I said, those guys are going to do whatever the opposite of what you do. It's part of it."
But even the average fan knew it was the wrong decision. With NASCAR's high downforce and low horsepower making clean air a priority, he would have been better off staying out on older tires.
Elliott's crew chief Alan Gustafson simply psyched himself out on this call. Yes, Elliott was right in thinking that whatever he does, everyone behind him will do the opposite. But if Sunday's race taught us anything, it's that being the leader on worn-out rubber still prevails over being in dirty air with fresh tires. At least Elliott salvaged a second-place finish.
Then there's Bowman, who has already won this season and is looking like a championship contender. His story is one of the more intriguing ones in the Cup garage. When he first began racing in the Cup Series in 2014, he was in bad equipment. But he earned his way to a top ride after impressing Dale Earnhardt Jr. and Rick Hendrick when he drove for the injured Earnhardt in 10 races in 2016.
"That finish does not show how great of a Chevrolet Camaro ZL1 1LE we had today in Charlotte," Bowman said. "We won two stages, led over 160 laps, and really had a solid car. We would get loose or tight in certain areas, but Greg (Ives, crew chief) and the guys made some good adjustments on pit road. At the end there, it just went straight. Not much I could do with that and unfortunately don't have a finish to show how strong we were today. We learned a lot and hopefully can come back strong on Wednesday."
Finishes of second, 19th, 20th, and 40th aren't that impressive, but once luck falls on their side, the Hendrick quartet looks like it will be the team to beat as NASCAR enters the summer stretch.
The team has surged and can contend with the likes of Joe Gibbs Racing, Team Penske and Stewart-Haas Racing again. Where has the team found this speed? It could be from the newly-improved noses of the Camaro bodies. It could also just be from another year of the same driver lineup working together. Now in the third season of the four drivers together at HMS, the notebook they've built is getting thicker and more helpful.
Photo: Chris Graythen / Getty Images