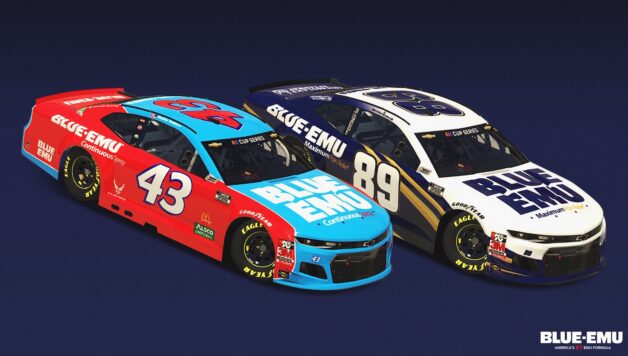 Driver tempers flare at virtual Bristol and a sponsor bails on Bubba Wallace
(Virtual) BRISTOL, Tenn. — After three weeks of iRacing for NASCAR, it might be cliché to say this because of how often it's tweeted by sim racers, but real tempers flare even when the racing is virtual.
Bubba Wallace proved that on Sunday after rage quitting less than 10 laps into the 150-lap race at the half-mile Bristol Motor Speedway. He tangled with Clint Bowyer, disconnected his rig, and tweeted:
https://twitter.com/BubbaWallace/status/1246870113896316929
Wallace's new sponsor, which reportedly was interested in joining him for real races, then responded:
GTK where you stand. Bye bye Bubba. We're interested in drivers, not quitters.

— Blue-Emu (@BlueEmu1) April 5, 2020
It's a harsh punishment from the sponsor, but it was expecting at least an hour or two worth of television exposure. Wallace failed to provide that, so it is understandable that Blue-Emu is upset.
The on-track anger didn't end there, though. Daniel Suárez and Kyle Larson played bumper cars as well.
*pulls up chair*
*grabs popcorn*@KyleLarsonRacin | @Daniel_SuarezG | #ProInvitationalSeries pic.twitter.com/x7F4MMa3kq

— eNASCAR (@NASCAR) April 5, 2020
It looked like Larson intentionally hit Suárez and Fox Sports commentator Jeff Gordon suggests it might have been retaliation from an earlier incident.
https://twitter.com/Daniel_SuarezG/status/1246875543435456512
The fact remains that Larson and Suárez were disqualified and they embarrassed themselves. If this were a real race, the cars might have still been used as weapons, but it wouldn't have looked as severe as this. And Wallace should be more careful about the things he says and does. It's put him in hot water before.
The drivers need to be more conscientious of their actions. While this isn't real life racing, it is still broadcasted to millions around the world, and the last thing NASCAR needs is fuel for people to make fun of stock car racing.
And remember — This. Is. A. Game. Albeit, it's a very realistic one that is used as a tool by drivers, race teams, and OEMs, but still nothing more than a simulation. There is no need to act like an agitated 16-year-old playing on his Xbox.
The NASCAR industry has done something positive in a tough time for the world with televised iRacing events featuring Cup Series regulars. But it didn't take long for individuals to create some toxicity. Fans have had a generally positive reception to iRacing because it's been an exciting substitute to the real thing, but how long will it be popular? It's going to be somewhat dependent on the drivers' attitudes.
Hopefully, the anger seen on Sunday is just the typical wrath that short track racing has generated since NASCAR's inception. But if it continues, it will affect fans' opinions in a negative way.
Photo: Blue-Emu via Twitter