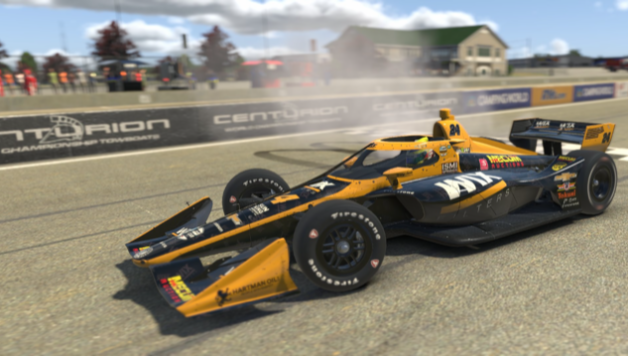 Sage Karam schools field in virtual IndyCar race at Watkins Glen
(Virtual) WATKINS GLEN, N.Y. — The first of six IndyCar iRacing Challenge events took place at virtual Watkins Glen International on Saturday, and pole winner Sage Karam led 43 of 45 laps of the American Red Cross Grand Prix en route to the victory.
Felix Rosenqvist, who started on the outside pole, finished second and Will Power rounded out the podium. Scott McLaughlin, the three-time Australia Supercars champion of DJR Team Penske, finished fourth. It was his debut in the field of an IndyCar Series race.
Twenty-four cars competed at the hilly, upstate New York road course. Many of the series regulars participated, including defending Indianapolis 500 champion Simon Pagenaud, two-time series champion Josef Newgarden, and Andretti Autosport superstar Alexander Rossi.
Seven-time NASCAR Cup champion Jimmie Johnson also ran in the No. 48 Chevrolet. Like McLaughlin, it was his first time in an IndyCar field.
"The (drivers) committed to this pretty well this week," Karam said. "… It was a lot of fun. It was great that we could give the fans something. It's the only sport that can really do it right now."
Similar to what NASCAR did for its iRacing event at Homestead-Miami Speedway last weekend and for its future iRaces, IndyCar used the familiar NBC Sports lap-by-lap commentary trio of Leigh Diffey, Townsend Bell, and Paul Tracy for the broadcast.
The next event will transpire at Barber Motorsports Park. Circuit of The Americas will also be one of the venues for a virtual race. Three other tracks will host iRacing events for IndyCar over the next five weeks, but they have not been determined yet. One of the intriguing options for the final race, which will run on a non-IndyCar "dream track," seems to be Mount Panorama Circuit, also famously known as "Bathurst."
James Hinchcliffe, who planned to race at the Glen but couldn't due to a technical glitch, said Bathurst would be his dream track. He and Rossi competed in the 2019 Bathurst 1000 for Walkinshaw Andretti United five months ago.
It would also suit McLaughlin perfectly, as he is the defending Bathurst 1000 winner.
Johnson's crossover into IndyCar sparked the age-old conversation about drivers trying new disciplines of auto racing. He is looking to run at least one race in the 2021 IndyCar season, and Graham Rahal suggested he should run the GMR Grand Prix on the Indy road course, which now coincides with NASCAR's weekend at IMS this year. Johnson's entry for WGI caught Tony Kanaan's attention on Friday, and he now wants to be in one of NASCAR's virtual races.
With @JimmieJohnson running in Saturday's @IndyCar @iRacing event, that has series champ @TonyKanaan wondering if he could run in the @NASCAR #ProInvitationalSeries.

The hope being, that iRacing can help unify the two fanbases. pic.twitter.com/JnkcU8jTko

— NASCAR on NBC (@NASCARonNBC) March 27, 2020
NASCAR's next event will occur on Sunday at virtual Texas Motor Speedway, and IndyCar's Barber race will be next Saturday.
Photo: Justin Melillo / The Racing Experts