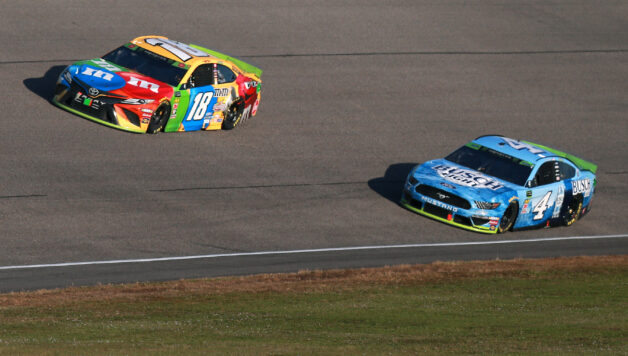 Kevin Harvick's bounty on Kyle Busch sparks variety of driver reactions
Unlike many NASCAR fans, Kevin Harvick likes to watch Kyle Busch compete in the NASCAR Gander RV & Outdoors Truck Series. He doesn't view it merely as a way for Busch to pick on the lower competition, but a business opportunity.
Busch runs five Truck races per year because his sponsors want him in it, and won Friday night in Las Vegas. He wouldn't be able to operate Kyle Busch Motorsports without running the events himself. So his participation is how he can afford to employ everyone within the organization.
And since Harvick believes Busch's presence increases viewership of the series, he decided to make something "fun" out of it.
I like this so let's make this fun. I'll put up a $50,000 bounty for any full time cup driver who races a truck and can beat @KyleBusch in his next 4 races. #gameon https://t.co/BRjLCTxFJQ

— Kevin Harvick (@KevinHarvick) February 22, 2020
Then Marcus Lemonis, the Gander Outdoors CEO, tweeted that he would match Harvick's $50,000 bounty.
Suddenly, many drivers wanted to know if they were eligible. Harvick stated that it has to be a full-time Cup racer, though.
https://twitter.com/Brendan62/status/1231299681122041856
How can I make a run at this?

— landon cassill (@landoncassill) February 22, 2020
How bout we just open this up to anyone who beats him. 50k would be a significant pay raise for us little folk.

— Brett Moffitt (@Brett_Moffitt) February 22, 2020
Busch himself didn't seem flattered by the offer. He's afraid someone might wreck him for the win, which would put an "asterisk on it."
Kyle Busch seemed annoyed at the $50K bounty placed on him.

When asked what he'd get if he wins the races: "I don't know. probably nothing. As usual. Sounds like life."

"Put money on a bounty on somebody and there's bad things that tend to happen." pic.twitter.com/2aMHZ7XZdA

— Davey Segal (@DaveyCenter) February 22, 2020
Busch's wife Samantha has an idea as well. She suggested that if no one can beat him, the money must be donated to the couple's Bundle of Joy Fund, which races awareness and support about infertility.
Busch's Joe Gibbs Racing teammate Denny Hamlin has expressed a legitimate interest.
So hear there's a Truck race @RichmondRaceway coming up. KBs last race in this 4 race deal. @ToyotaRacing track,my hometown, might as well book this as a W.. If sponsorship is secured within a week I'm in. KB will go 4-1.

— Denny Hamlin (@dennyhamlin) February 22, 2020
Busch wondered what his reward would be if no one beats him. Harvick tweeted back, "Good ole pat on the back and some great exposure for your sponsors!"
Photo: Sean Gardner / Getty Images