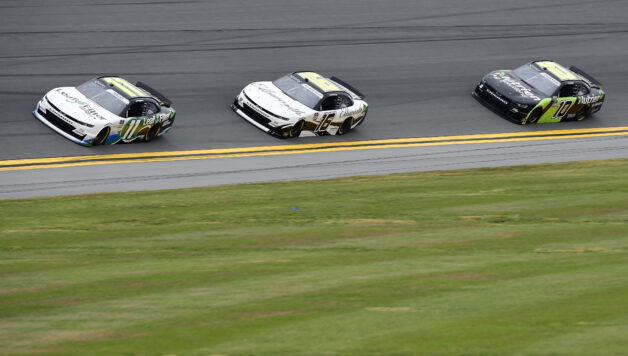 Jeff Green forfeits Daytona Xfinity ride to Ross Chastain
Two of Kaulig Racing's cars failed to qualify for the NASCAR Xfinity Series race at Daytona International Speedway on Saturday morning. However, one of its drivers will still compete in the 300-mile event in the afternoon.
Ross Chastain, driving the No. 10 for Kaulig full-time this year, suffered apparent brake issues in his qualifying run. He and teammate A.J. Allmendinger — also having mechanical problems — missed the race, and neither had provisionals that would keep them on the 36-place grid.
However, RSS Racing driver Jeff Green will give Chastain his seat in the No. 38 Chevrolet. Kaulig has made a deal with RSS to keep Chastain in the race.
While it's not exactly an aesthetic transaction, it is one that isn't unprecedented. Ride buying has occurred in NASCAR for years, but it is a necessary evil within motorsports. Chastain has backers that pay a lot of money to see him compete in each race. RSS, one of the series' smaller teams, doesn't have significant sponsorships in place, so finding money in any way possible is a must. Financially, it makes sense for RSS and Kaulig to reach an accord.
Also failed to qualify was Tommy Joe Martins and Colin Garrett. Myatt Snider, who will make his Xfinity debut in the No. 21 Richard Childress Racing Chevrolet won the pole for the NASCAR Racing Experience 300.
Photo: Jared C. Tilton / Getty Images