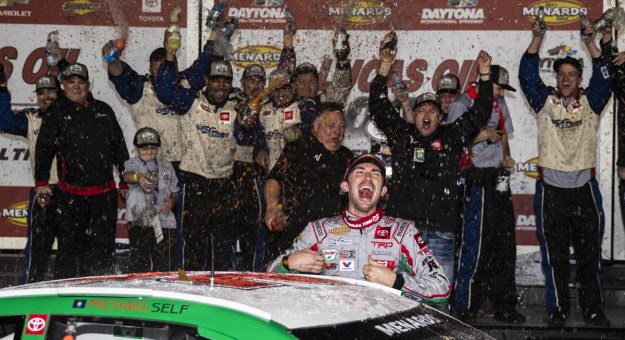 Michael Self opens ARCA season with victory at Daytona
For the eighth time in his ARCA Menards Series career, Michael Self is a race winner.
Self, competing in his sixth ARCA season, led more than half of the 80 laps en route to his second Daytona victory in two years. He won the 200-mile event in 2018, too.
Hailie Deegan, the young, female phenom, finished second in her superspeedway debut with DGR-Crosley Racing. Drew Dollar, Sean Corr, and Thad Moffitt, the grandson of Richard Petty, rounded out the top-five, respectively.
Self's win marked the third consecutive triumph for Venturini Motorsports at Daytona International Speedway. The team won with Harrison Burton last year.
In the final stint of the Lucas Oil 200, the lead pack was mostly single file. Tanner Gray, Deegan's teammate, looked poised to earn a top-five but suffered a broken oil line with 11 laps remaining.
Deegan was unable to get a run on Self before the checkered flag waved. The draft wasn't strong enough since the field shrank to less than 10 lead lap vehicles. Even if there were more cars, Self probably still would have won, though. His car was dominant throughout the race.
"This is amazing, man, to start the season off like this. It's unbelievable," Self told Fox Sports. "It's just a great day overall. What an amazing car, to have our cars finish first and third is unbelievable."
Deegan became the fifth woman to finish second in an ARCA race. She said her priority for racing on the Daytona oval was simply to finish.
"To come out here and finish runner-up, nothing could have been better," she said. "Obviously, every driver wants to win, but this was a victory for me."
The Lucas Oil 200 had two notable incidents. The first occurred when the leaders attempted to navigate past the lapped No. 69 car of Scott Melton.
https://twitter.com/ARCA_Racing/status/1226276449394417664
The second happened when Deegan was bump drafting with Chuck Hiers coming out of Turn 2. Hiers took a hard hit but walked away with no apparent issues.
https://twitter.com/ARCA_Racing/status/1226283542700650496
The next ARCA Menards Series event will take place at Phoenix Raceway next month.
Photo: Kyle Zedaker / ARCARacing.com