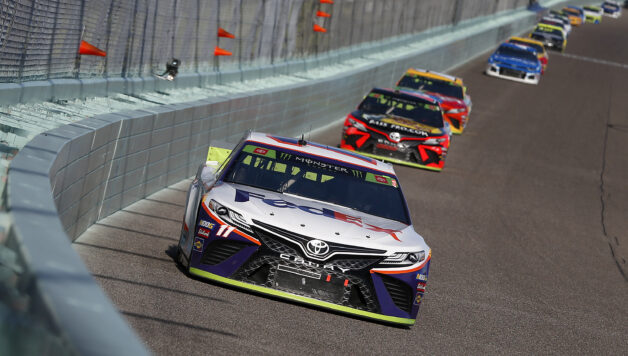 Three thoughts following the NASCAR Cup championship race at Homestead-Miami Speedway … 
Why would anyone ever count Kyle Busch out?
Kyle Busch entered the NASCAR championship finale with a 21-race winless streak. He won the regular-season title and earned a 45-point playoff point boost, which ultimately propelled him to the Championship 4, but he did not have a strong postseason.
In four of the nine races leading up to Homestead, he finished outside the top-10. He failed to lead a single lap in five of the 10 final races. He had on-track run-ins with backmarkers and mid-pack cars (Garrett Smithley and Aric Almirola come to mind) during the playoffs and made some uncharacteristic mistakes. From the outside, it looked like he was losing focus.
But his stellar regular season and consistency allowed him to make it to Homestead. And once you're one of the final four — no matter who you are — you have a legitimate shot at the title. If you don't believe me, you probably didn't watch Friday night's Truck Series race.
If that's not enough to convince you, maybe this is: He's Kyle Busch, and he will go down in history as one of the best stock car racers ever. He is ninth on the all-time Cup wins list with 56, has 200 career top-fives, two Cup titles, and 208 national level wins.
He is a polarizing figure with a brash attitude that might repel some fans, but he's going to be remembered as the greatest driver of the 2010s. At only age 34, he has the potential to win several more titles in his career. With Phoenix hosting the 2020 NASCAR finale, he could already be the favorite for next year, too. After all, he is a three-time winner there, including two of the last three events.
Thoughts on the future of NASCAR
NASCAR's first season with the low-horsepower high-downforce package is complete. Frankly, I'd rather not talk about how pathetic it looked at times this year. Instead, I want to look ahead.
But I want to look ahead beyond 2020. Let's fantasize about 2021 and how wonderful the Generation 7 could be because the Gen 6 car has overstayed its welcome. Unfortunately, fans have to endure another year of high-speed parades at tracks smaller than 1.37 miles and road courses, which make up 15 of the 36 races. Unless, of course, NASCAR readjusts the current aero package.
There must be conversations happening within the sanctioning body about how to improve the racing at places like Martinsville and Phoenix, which are the final two stops of the upcoming year. Because it was next to impossible for drivers to make green-flag passes for the lead. There were no "Ohs and Ahs" moments at those tracks this season. No bump-and-runs or dramatic late-race passes. They were BORING.
The cars are designed to be as low to the pavement as legally possible. That's how they create the most downforce and, therefore, the most speed in the corners. But it disrupts the air flowing over the spoiler, which in itself is unnecessarily tall, and it isn't conducive to passing. And it was evident even at the 1.5-mile Homestead-Miami Speedway.
In the views of some, the ideal stock car wouldn't have a splitter, side skirts, and a nine-inch spoiler. It would also have more than 550 horsepower. But that's not what cars will be like in the future. NASCAR President Steve Phelps said on Sunday that the 2021 car will "put the stock back in stock car." What that exactly means? We don't know yet. But NASCAR has started testing the new vehicle, and fans can only hope that it produces the best racing possible. Sunday's race, along with many others, wasn't it.
Denny Hamlin's not done
It felt like Denny Hamlin was destined to win the 2019 championship after succeeding in a must-win situation at Phoenix last weekend. He started the year with a Daytona 500 win alongside first crew chief Chris Gabehart and won five more times before the season concluded.
The duo clearly has found chemistry and had a championship-caliber season. The narrative of Hamlin's 2019 was that this would be the year of redemption; the year he wins a title. No more what-ifs from the 2010 season and no more concerns about a winless 2018. But it wasn't meant to be.
Hamlin doesn't seem anywhere near retirement, though. He's 39 but is running as well as ever. His relationship with FedEx, the only sponsor he has ever had in his Cup career, is among the strongest in the series, and if 2019 showed us anything about him, it's that he hasn't lost his edge.
But there's this feeling that it was now or never for him to win a title. Why? He still has at least next year to give it another shot.
"I'm happy with where our team is at," he said after the race. "I mean, we're going to win a shit pot full of races next year."
Even if Hamlin doesn't win a championship, he doesn't feel like he'll have a pit of emptiness in him. Winning one title won't define his career, just as it didn't define Mark Martin's. His career will be remembered for two Daytona 500 wins and 37 Cup trophies.
Photo: Brian Lawdermilk / Getty Images