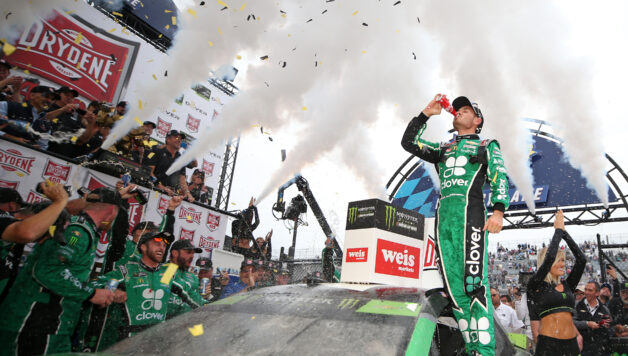 Kyle Larson's drought-ending Dover win could prove to be his biggest yet
Chip Ganassi Racing is going somewhere that it has never been thanks to Kyle Larson's victory at Dover International Speedway on Sunday.
The NASCAR Cup Series' Round of 8.
Joe Gibbs Racing drivers Martin Truex and Denny Hamlin were the fastest at the one-mile track. Hamlin won the pole and led a race-high 218 laps. Had he not been held up by Joey Logano — who was more than 20 laps down — near the end of Stage 2, Hamlin might have swept the stages and won the Drydene 400.
But Truex capitalized on Hamlin's inability to pass Logano, and he took the lead with 12 to go in the second stage. He won the segment, but victory literally slipped away when his tire changer fell on pit road before taking off the left rear tire during the ensuing caution. It cost Truex several positions, but he was able to finish second.
Larson, who started second, was a top-four driver throughout the day. But winning the battle off pit road during the caution after Stage 2 propelled him to his first points-paying victory in 75 races.
The final stage was caution-free and mistake-free for the CGR driver. He's been a playoff contender for three consecutive seasons but has never been able to advance past the Round of 12.
"To win a playoff race — this is my first playoff victory — is special," Larson said.
Now that he's locked into the next round, he isn't worried about the unpredictable beast that is Talladega Superspeedway, where the Cup Series goes next weekend. That's huge for Larson, who has crashed four times in his last nine races there.
Larson has nothing to lose and everything to gain in the next two weeks. Earning more stage points and playoff points will aid the 27-year-old as he prepares for the Round of 8.
If Larson can advance past the Round of 8, he's a legitimate title threat. Homestead-Miami Speedway will host the Championship 4 race, where Larson has been a dominant force riding the track's high groove two of the last three years.
Since becoming a full-time Cup driver in 2014, Larson has finished in the top-five at Homestead thrice, including a runner-up result in 2016. He's also been the leader of the most laps two of the last three times the Cup Series has visited the South Florida track.
Right now, Dover might not seem to be the most significant win of his career. It might even be the greatest win of the season for him. After winning the All-Star race in May, he went home with $1 million, which he said was "pretty nice."
But if he can survive the next round, he'll look back to Dover and realize Sunday's event was a season-changer for him.
"I'm still going to be a ways back on points to Martin, Kyle (Busch), Kevin (Harvick), Joey to start the next round," he said. "To start today, I was like 18 points back of (Brad) Keselowski, so like that's still a lot to overcome. It's going to be even bigger, probably to start the next round.
"But you know, Texas, we could go there and win. We could go to Phoenix and have a good shot to win, Martinsville, hopefully, we can go have a good run there. But we'll see. It's just nice to get a win, get some playoff points, and just kind of chip away at our deficit that we're in — not in — but compared to those guys."
Photo: Matt Sullivan / Getty Images