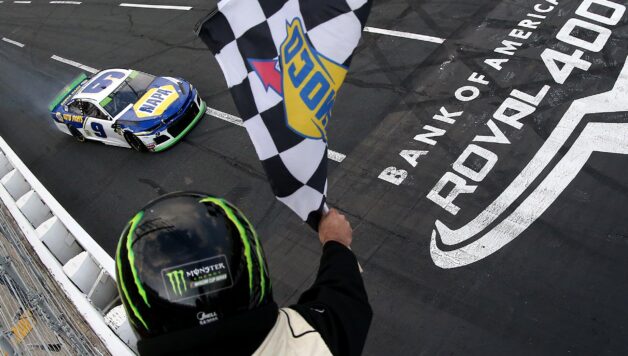 Chase Elliott overcame a restart mistake that saw him collide into the Turn 1 wall to win the Charlotte Motor Speedway Roval race. It was the final event in the Round of 16; Erik Jones, Kurt Busch, Aric Almirola, and Ryan Newman were eliminated from playoff contention.
Sometimes the fastest car does win
Last weekend, Martin Truex Jr. recovered with a victory at Richmond Raceway after spinning midway through the final stage of the race.
On Sunday, Chase Elliott managed to redeem himself too, after going headfirst into the Turn 1 barrier at the Roval on Lap 65 of 109.
It's not too often that a driver spins and wins, or collides and wins in Elliott's case. Now it's happened twice in an eight-day span. What does it mean?
If you have the fastest car, you can still find a way to be the deserving winner.
"I thought it was over. I mean, I thought that he made ‑‑ if we came back to the top 10, that would be great," Elliott's team owner Rick Hendrick said. "But the car was really fast, and I thought it was hurt when it went into that barrier. But he came out and the lap times were good, and then we got a couple of cautions that helped us, and he got back up to the front."
"I think Chase could have run around on seven cylinders," Brad Keselowski said. " He was handling so good that nobody was going to touch him."
The fastest car doesn't win in NASCAR all the time. In fact, it can be a rarity. NASCAR races typically have a couple of restarts per event. Errors or penalties in the pits can alter the results. Cautions can ruin strategies, and a driver with a fifth-place car on four fresh tires can overtake the dominant car on a late restart, who might be on older rubber.
Remember how many times Martin Truex Jr. was the dominant car in 2016? There were four races that he led the most laps but didn't end up finishing first. NASCAR races can be frustrating in that sense, but the last two events haven't seen that "surprise" winner.
Bad attitude Bubba
It's no secret Bubba Wallace has endured a frustrating year. But he let his emotions — and Powerade — get out of hand after the race when he threw a drink at Alex Bowman, who was being tended to by medical personnel.
VIDEO: @KicknTheTires followed a very upset @BubbaWallace as he doused an overheated @AlexBowman88 w/ his drink after the @CLTMotorSpdwy #NASCAR #ROVAL race. pic.twitter.com/JCRl67sMrK

— Jerry Jordan (@JerryJordan_KTT) September 29, 2019
Bowman and Wallace tangled several times early in the race. On the first lap, Bowman drove too hard into the entrance of the backstretch chicane and Wallace, who was in front of the No. 88 driver, suffered minor damage. According to Bowman, Wallace was flipping him off for several laps after the incident.
Then Bowman decided enough was enough. He dumped Wallace at the exit of the backstretch chicane on Lap 42.
"I've got to stand up for myself at some point, right?" Bowman said. "He probably wouldn't have got wrecked if he had his finger back in the car. But, I'm just proud of our guys today and just really focused on moving forward and being good this weekend (in Dover)."
On Monday morning, NASCAR Executive Vice President and Chief Racing Development Officer Steve O'Donnell said: "I'll be having a conversation with Bubba Wallace. That wasn't classy whatsoever. We totally get drivers having issues with each other after a race. When a driver is being tended to by medical personnel, you need to be smarter than that."
Wallace is known to wear his heart on his sleeve. He's been emotional after the Daytona 500, at the All-Star weekend, but that's "good" Bubba. Fans like to see him overjoyed with happy tears running down his cheeks. But there is also "Bad" Bubba, who likes to give out excessive middle fingers and drawing the ire of his competitors. Daniel Suarez took exception to it at Pocono Raceway earlier this season, and the two had a spirited conversation about it on pit road after the race.
Maybe it's Wallace's frustration about 2019 boiling over or perhaps it's just his innate feistiness. Maybe it's a little bit of both. But regardless, that was a bad look for the Richard Petty Motorsports driver, and it can't happen again. Don't knock someone when they're already down.
What happened to Kyle Busch?
During the red flag, NBC Sports showed Kyle Busch out of his car, indicating that his day was over.
Busch wasn't in contention for the win, and he suffered damage earlier in the race. He was running in the 30s and revealed in a tweet that his car had a broken sway bar after getting a flat tire.
https://twitter.com/KyleBusch/status/1178481008167079942
Busch was in a position where he could afford to step away from the race. He was already clinched into the Round of 12 and didn't want to become an on-track problem. Was this a violation of the "100 percent" rule?
No. His car was damaged and to prevent any further harm, he parked his No. 18. Why risk trying to gain maybe one or two extra points when there are drivers who have much more at stake? Why put yourself in the vulnerable position of trying to race a wounded vehicle?
Sidelining yourself probably doesn't come off as a popular decision with his fans or sponsors. But getting out of the car was the smart decision. Limping around a treacherous course like the Roval has little to no incentive.
A race of inches
If Ryan Newman hadn't missed the backstretch chicane with two laps remaining, he would have advanced to the next playoff round. And he didn't miss it by much.
But since all four tires where on the inside part of the curb at the chicane's right-handed turn, NASCAR deemed that he cut the track and would have to stop on the same lap in the restart zone.
But he didn't stop. So race officials said he had to serve a pass-through penalty on pit road. When the checkered flag waved wound up 32nd. He was 15th before missing the corner.
It was the right call by NASCAR. Newman made his best effort to stay on the course, but like an NFL wide receiver trying to catch the ball in the back corner of the endzone, he needed to stay in bounds or else it wouldn't count.
It was an unfortunate break for Newman. He's rejuvenated Roush Fenway Racing this year and had a remarkable top-five at Richmond last week. Newman made it to the Championship 4 in 2014 because he was able to be consistent. He didn't have the fastest car with Richard Childress Racing, but he avoided trouble and banged out top-15s in nine of the 10 postseason races.
It looked like he could have been on a similar path this year, although it would have been tougher to do as playoff points were not yet in existence in 2014. RFR hasn't been a race-winning team for a while, but it has gotten better. Newman had a lot to do with it. He doesn't wreck cars and finds opportunities to maximize his day when someone else makes a mistake.
But missing the chicane by a matter of inches was just one error he couldn't overcome.
Photo: Brian Lawdermilk / Getty Images