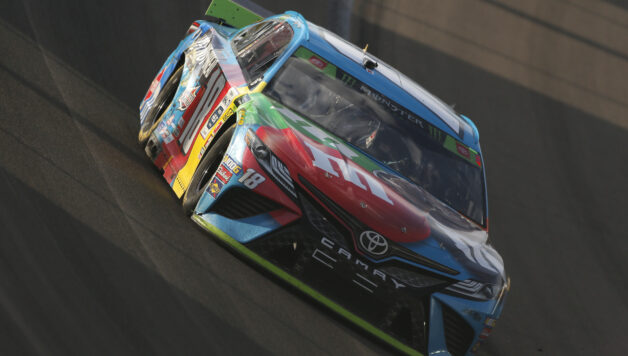 Kyle Busch after frustrating Las Vegas race: 'I'm just here so I don't get fined'
LAS VEGAS — Kyle Busch's seesaw day at Las Vegas Motor Speedway ended with a low note after running into the lapped car of Garrett Smithley late in the South Point 400.
Busch started from 20th and made contact with the wall out of Turn 2 early in the race. He fell two laps down but rebounded with the help of free passes under caution and stretching the No. 18 car's fuel mileage as long as possible throughout the event.
It looked like he would earn a resilient top-10 until he hit the back of Smithley's No. 52 in the final stage. Busch's nose was bent out of shape and dropped to 19th when the checkered flag waved.
Naturally, he was frustrated when he climbed out of the car. He brought out his inner Marshawn Lynch, who he met before Sunday's race when speaking at the media bullpen on pit road.
"I'm just here, so I don't get fined," he repeated.
No amount of playoff points makes him feel comfortable about his championship hopes. He said he didn't care about them when he was asked about it. That's probably an impulsive response, though. He should care a lot, considering he is once again a favorite for the title.
When Busch decided that he didn't want to talk with the press anymore, he turned around to a NASCAR media representative and asked if he could be dismissed.
"I'm answering the dumbest fucking questions over and over again," Busch said. "Am I good?"
He was told to stick around for NBC Sports to interview him.
When NBC Sports' Parker Kligerman interviewed him, he said, "We've got guys that have never won late model races running out here. It's pathetic."
"We've got guys that have never won late model races running out here. It's pathetic."@KyleBusch was not happy after a run-in with lapped traffic late at @LVMotorSpeedway. pic.twitter.com/zo3V553bp3

— NASCAR on NBC (@NASCARonNBC) September 16, 2019
Joey Gase, along with Smithley, was a target of hostility from Busch. Busch tweeted after the race that "Top tier drivers get hired by top tier teams. Try winning… a lot… and u have a better shot of getting hired."
Gase retorted with saying he'd be happy to swap his MBM car with Busch's Joe Gibbs Racing car any day. Smithley also said Busch has never been in a position where he is a backmarker, and he doesn't understand that it can be challenging to ensure that the leaders don't get stuck behind you.
But Smithley held his line, and Busch committed to the same lane when he entered the turn, unfortunately. Busch was racing side-by-side with William Byron who took the bottom, and Busch stayed closer to the wall, where Smithley was.
Smithley apologized, but it doesn't even seem necessary. He stayed where his spotter told him, and Busch's run-in to his rear bumper was nothing more than an innocent racing incident.
"I was told to run middle so that's where i was committed. Never got the memo. Sorry you got wrecked," Smithley tweeted at Busch.
Playoff-wise, Busch is still fine. He's fourth in the standings, and the next Cup race will be in Richmond. He has won at the track six times, including two of the last three races.
Photo: Jonathan Ferrey / Getty Images