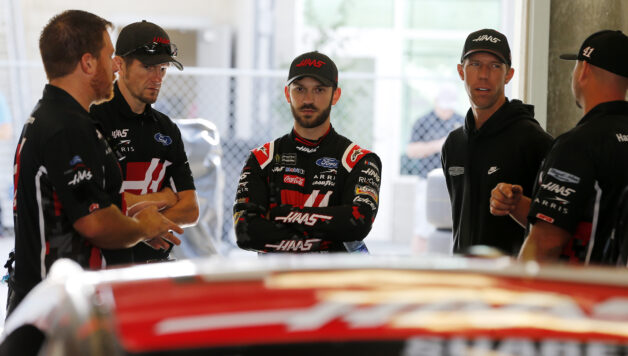 Daniel Suarez: 'Hopefully, we will solve all our issues in the last 10 races'
When Carl Edwards retired after the 2016 NASCAR season, Joe Gibbs Racing needed a driver to pilot the No. 19 Cup car. Fresh off his Xfinity Series championship with JGR, Daniel Suarez got the nod for the ride.
Suarez wasn't expected to be in the Cup Series that soon. But Edwards' sudden retirement put JGR in an unfavorable position, and the team had no choice but to promote Suarez.
In two seasons with JGR, Suarez finished 20th and 21st in the standings. He didn't win any races, and when Furniture Row Racing's Martin Truex Jr. needed a new ride amid the No. 78 team's closure last season, Suarez was given the boot.
He joined Stewart-Haas Racing and took over the No. 41 car, which had been driven competitively by Kurt Busch since 2014. It gave Suarez a fresh start with a new team, and this time, he was in a more comfortable position to contend for wins.
But after another regular season in which Suarez missed the playoffs, he's feeling dissatisfied he couldn't be a title contender in his third season as a Cup driver.
"Definitely a little disappointed," he told NMMR. "It wasn't exactly what we were expecting, but that's racing. We put ourselves in that position, unfortunately, but we have to keep working hard and try to get better. We still have 10 races to go in this year's championship. Definitely trying to get a race win — that would be so important."
The Mexican was the first driver to finish outside the playoff cutline. His 11th-place result at Indianapolis last Sunday wasn't enough for him to be one of the top-16 drivers. With 10 races remaining, he hopes to salvage the 2019 season with his first career Cup victory.
"That's the goal," he said. "That's obviously been the goal the entire year, but now at the moment, it is just to put that in our head."
The SHR driver hasn't said if he will return to the organization in 2020. Most industry people believe that SHR Xfinity driver Cole Custer is ready for the leap to Cup, but where might he go? Kevin Harvick and Aric Almirola will both return. Clint Bowyer's contract is up after this season, but there has been speculation he will stay. Suarez's deal includes an option for 2020, and it's unclear if the team will exercise it.
Suarez's partnership with Arris could be enough to keep him in the No. 41 for another year and Custer might be a candidate to drive the No. 32 Go Fas Racing Ford in a technical alliance with SHR. But GoFas team owner Archie St. Hilaire said he doesn't foresee Custer in his car.
While Suarez's future remains unclear, he is focused on his current job with the No. 41 team. He is blocking out everything else.
"We have to keep getting better, and hopefully, we will solve all our issues in the last 10 races," he said. "Just trying to be competitive. It's extremely important to be competitive and trying to dial in the car just like we have been doing the last month and a half."
David Swope contributed to this story. Listen to his interview with Suarez here:
Photo: Brian Lawdermilk / Getty Images