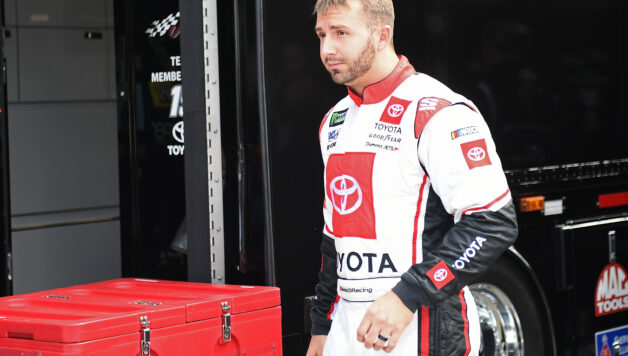 Q&A: Matt DiBenedetto talks year at Leavine Family Racing, will drive for Wood Brothers in 2020
The 2019 NASCAR Cup Series season has been a landmark year for Matt DiBenedetto's career, and 2020 looks to be even better potentially.
After two seasons at GoFas Racing, DiBenedetto decided to leave the team at the end of 2018 without a seat secured for the new year.
But Leavine Family Racing and Toyota joined forces during the offseason and hired DiBenedetto to be the driver of the No. 95 car in the Cup Series.
DiBenedetto struggled in the first half of the season, despite leading 49 laps in the Daytona 500. He cited growing pains as part of the ordeal, but he's earned six top-10s in the last 11 races, including a P2 at the Bristol night race.
Next year, DiBenedetto will drive the No. 21 Ford for Wood Brothers Racing. Paul Menard will retire from full-time Cup competition.
Our David Swope spoke to DiBenedetto following his 18th-place finish at the Brickyard 400 about his year with LFR and how important it has been for his career. Note: This interview was conducted before the Wood Brothers news broke on Tuesday morning. It has been condensed by eliminating the discussion about his potential 2020 plans.
How have you been recovering after Indy? It was a pretty brutal race. You ended up being the second-highest finishing Toyota.
"It was a long, long day. There was a crash on pit road that we were involved in at the very beginning of the race, so that created a long day of trying to fix damage, work on the racecar. We fought back to 11th, and then the last caution came out. There was contact on the last restart, and we fell to 18th. It was one of those days that just doesn't go very smooth. But it happens. We've been on a great roll. We'll recover, no problem."
What were your expectations coming into this season?
"I knew we had a lot of building to do as a team. A lot of work. It's shown. Halfway through the season to now, we've picked up, and things have smoothed out. We've picked up, and it's been great meshing together with everyone, so we've had so many top-fives and top-10s lately. We led the most laps at the Daytona 500. We led the most laps at Bristol and almost won a couple of weeks ago. Just a little contact with Ryan Newman caused us to come up just barely short, which killed us. I really wanted to make the playoffs, and we were so close. But we just missed because of that one race, and a couple of things could have changed very well. Could have very easily been in the playoffs. But I think in the second half of the season, we've been meeting or exceeding expectations with so many top-fives and top-10s and almost sneaked off that win a couple of weeks ago. It's been fun to have that kind of performance."
You sure have had a lot of grace with the changes that Toyota has with Christopher Bell coming up. But the crowd really got behind you at Bristol. It was amazing to see fans hollering for you to get a victory. That's probably not something you want to take away as a highlight of your career, but how did it feel come to away with second place?
"It was heartbreaking for the most part. It tore me up just to come that close and have one instance particularly take away our shot at winning. But the crowd support right after the race was incredible. And that honestly made it so much better. I was so overwhelmed by the fans screaming and cheering for us. I thought, 'Oh, is there a fight or something happening?' And then I was like, 'Oh, that's for us.' It blew my mind, and that was pretty amazing."
What might be some of your short-term goals as NASCAR gets into the playoffs? 
"I'd love to sneak up a win. I know it's tough to do in the Cup Series and we're still a growing team. But we've shown, obviously like at the Daytona 500 where we led the most laps and were the dominant car there, and then at Bristol, same deal. We've shown that there are races in our wheelhouse that we can do it. So I would say just keep clicking off these top-fives and top-10s. We have a lot of strong race tracks coming up. The short tracks and road courses, especially for us, are our best. So we'll do that and try to sneak off a win. That's our only goal now. Just missed the playoffs because of that. … Now our goal is just to try to go out there and kick some butt, and win and keep proving ourselves and make statements."
You can listen to the full interview with David Swope and Matt DiBenedetto here:
Photo: Stacy Revere / Getty Images