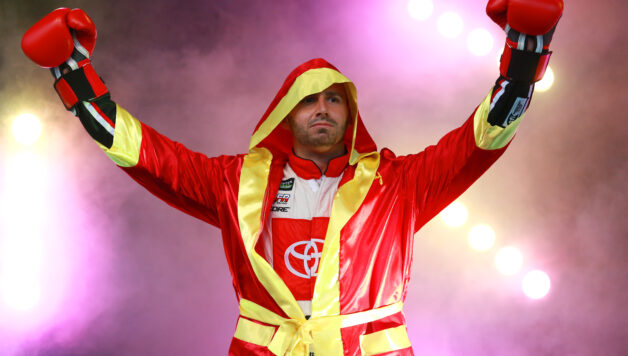 Matt DiBenedetto falls short of Bristol win, but fortifies place as NASCAR's favorite underdog
Before he finished second in the Bristol Cup race on Saturday night, Matt DiBenedetto must have known he was having a career run when he was in the lead in the closing laps.
Ultimately, Denny Hamlin won the event, but even he knew that it was DiBenedetto who truly won that night. The first thing he did after climbing out of the car for his NBC Sports television interview was apologize to the Leavine Family Racing driver and crew chief, Mike Wheeler. He knew how much a win would have meant to them.
When DiBenedetto's face appeared for an interview on the TV screens at the track, the crowd erupted in cheers. He's dubbed "The People's Champ" for a reason, and his run with "the little No. 95 team that could" solidified him as one of NASCAR's most popular drivers.
How popular you ask? There was a point when DiBenedetto was leading, and Chase Elliott was running second late in the race. I began to wonder if it would be less popular if Elliott, the 2018 Most Popular Driver, won.
DiBenedetto ran into lapped traffic with about 30 to go, which aided Hamlin in his quest for the lead. Notably, he got held up by Ryan Newman, who was fighting to stay on the lead lap.
Newman and DiBenedetto made contact, and it resulted in enough damage to the No. 95's nose that it affected the handling.
If DiBenedetto had flipped out on Newman, who is notoriously tough to pass, after the race, it'd be hard to blame him. But he didn't. He wasn't happy about their run-in, but he maintained his composure when asked about it by the press.
If you look at it from Newman's perspective, he couldn't afford to have DiBenedetto win the race. A win for him would move the playoff cut line up a spot since DiBenedetto is outside the top-16 in the standings. Newman is on the bubble, and he'd be 16th in the playoff grid had DiBenedetto won. Since Hamlin won, he is 15th.
It was a weekend that DiBenedetto will never forget. Earlier this week, he learned that he wouldn't be able to return to LFR in 2020, despite the successful summer stretch he has enjoyed.
Instead, Joe Gibbs Racing protege Christopher Bell is expected to take over the No. 95. But it was a business decision made not by team owner Bob Leavine, but the higher-ups at Toyota.
It's a really tough break for DiBenedetto, who has fought to keep his name relevant in NASCAR for nearly a decade. During driver intros last night, he entered the stage wearing a robe and boxing gloves, like Rocky Balboa.
The costume represented two things: First, it was the battle that the drivers in the NASCAR Cup field would face at Bristol Motor Speedway — a historic NASCAR venue where fenders get bent, and tempers run hot. But it was also clearly symbolic of the perpetual fight for his career, which will continue this offseason.
DiBenedetto did the best he could, and it didn't result in a win. But that's OK. Hamlin had the better car over the long run. Newman had to fight for everything in his grasp to keep himself playoff-relevant as the regular season's conclusion nears. The important thing is that everyone saw what his potential is, and he was able to accept losing a race gracefully.
Photo: Sean Gardner / Getty Images