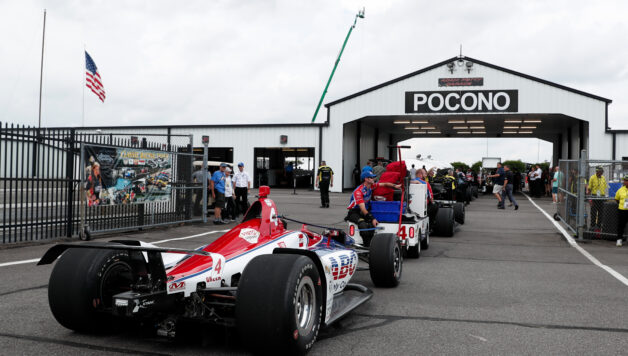 Haverlin: Before Sunday, I had no problem with IndyCar at Pocono. Now I do
Watching cars go two and three wide when the green flag waved on the first lap of the ABC Supply 500 at Pocono Raceway made me nervous. And 20 seconds later, when they began to wreck in Turn 2 at nearly full speed, I was completely horrified.
A tremendous crash transpired, because of a driver error by Takuma Sato, who turned into Alexander Rossi on the backstretch. He ended up upside down on the nose of Ryan Hunter-Reay's car. Felix Rosenqvist got tagged by Sato sliding up the track and ended up flying backward into the catch fence. And James Hinchcliffe got caught up in the melee because he had nowhere to go. It was an ugly scene, to say the least.
Thankfully, it wasn't as solemn of a crash as IndyCar saw with Robert Wickens last year, but it was similar. You don't ever want to see cars flying into the fence. Yet here we are one year later witnessing the same thing in the same turn.
After Wickens' nearly fatal wreck and with respect to the situation, I thought his accident was a bit of a fluke. Cars don't typically fly into the fences, and the last time it happened as bad as it did at Pocono 2018, it was Dan Wheldon's fatal wreck at Las Vegas Motor Speedway in 2011.
But the series hasn't been to Vegas since that tragic day eight years ago.
IndyCar returned to Pocono one year later on Sunday, and another dangerous multi-car pileup happened. The big question is: Does IndyCar belong at Pocono Raceway?
Before Lap 1, I would have said yes. I thought that if Pocono is too dangerous for IndyCar, then so is the series' marquee event, the Indianapolis 500.
My opinion changed within seconds.
Before the race, Rosenqvist, the Chip Ganassi Racing rookie, said that he respects the three fast ovals IndyCar visits. Texas Motor Speedway, Indianapolis Motor Speedway and Pocono all present enormous safety risks for the drivers, and that's why he said it is crucial to "respect" these tracks. But Sunday's race proved that sometimes you don't have to find the danger; the danger will find you.
I don't think any part of the Indy oval or Texas is nearly as treacherous as Turn 2 of Pocono. The straightaway leading to the corner is more than 3,000 feet long, and speeds can reach 230 mph. The turn is like a high-speed, 90-degree kink. It's fast, and it gets really narrow with almost no room for error. Trying to go through there two-wide is ALWAYS a scary situation for open-wheel cars.
"How many times do we have to go through the same situation before we can all accept that an IndyCar should not race at Pocono." Wickens tweeted. "It's just a toxic relationship and maybe it's time to consider a divorce. I'm very relieved (to my knowledge) that everyone is okay from that scary crash"
Texas and Indy are wider in the turns. The risk factor doesn't seem as significant. Even Turns 1 and 3 at Pocono seem relatively tame.
But Turn 2 has quickly become the most deadly turn in all of IndyCar. And it's convinced me that the series should no longer be racing there.
After this year, it might not. The hottest rumor floating around about the 2020 schedule is that Richmond Raceway, the three-quarters mile oval in Virginia is poised to replace the triangle-shaped track. And most people in the paddock are probably praying that it does.
So am I. Because there is absolutely no reason to keep returning to a place where drivers' careers or lives can end within a split second.
Photo: Joe Skibinski / INDYCAR Media