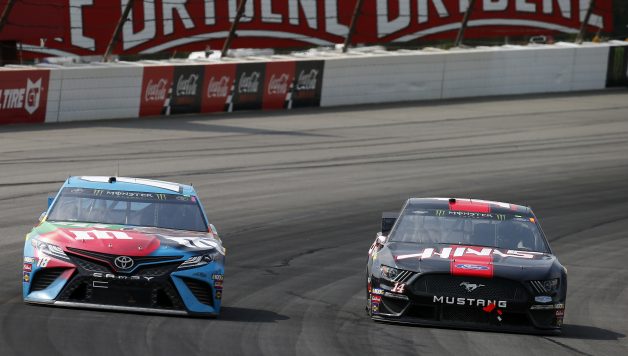 Repetitive rules package discussion frustrates Pocono winner Kyle Busch
LONG POND, Pa. — Kyle Busch doesn't want to hear the "P" word uttered in his direction anymore.
No, not that "P" word, silly. He's referring to "package," as in the aero kit NASCAR has been using for its Cup Series cars all season.
It has been mostly disappointing since its debut in Atlanta three months ago. Drivers say the higher downforce and lower horsepower have made the cars easy to drive but difficult to pass.
The Pocono 400 was no exception. The cars are built with aero ducts and restricted horsepower. It was similar to what was used on last year's Xfinity Series cars at the Eastern Pennsylvania track. That race underwhelmed as the field spread out on green flag runs, and it would've been shocking had the Cup race been any different.
Sure, Busch won for the fourth time in 2019 on Sunday, but the word "package" is enough to make him throw a fit.
During his media availability, he shouted, "Stop asking me about the package!" to a journalist who inquired about it.
Another reporter sarcastically asked why Busch didn't want to discuss it anymore, and he replied, "If someone says the 'P' word to me one more time, they're gonna get a water bottle in the face" after his press conference.
He's sick of answering questions about it, and reporters are probably getting tired of asking it, too. It stinks. Oh well. How many more times does it have to be discussed?
As long as drivers keep making on-track maneuvers that they wouldn't normally do in a car with more horsepower and less grip, the "P" word will continue to be dissected.
"I tried to squeeze into a tight hole off of Turn 1 on a restart, and I pretty much turned myself into the wall," Kyle Larson said. "But during the first stage, there were three guys behind me that were faster than me, and as long as I hit my marks, I knew they wouldn't get by."
"There were very few times I could get back to racing," pole-sitter William Byron said.
Track position was everything throughout the day. Pocono races tend to lean in favor of drivers who have it anyway, but with this package, it became even more crucial. That's why the top-eight drivers chose not to pit during the final caution.
"You look at Pocono, and it's a pretty one-groove place," Erik Jones said. "It just made (passing) tough all day. The hardest all year, I would say."
Busch has made it well-known that he hates it. He said he's talked with NASCAR about it and it has been falling on deaf ears. Even with his win, he still didn't seem thrilled. It's like he didn't feel the need to have a massive smile on his face because he knew it wasn't a challenging day of passing cars and keeping other drivers behind him. It was like leading a high-speed parade. What's the fun in that?
"I think I passed one car today and that was on the outside of Turn 3," he said.
The next Cup race will be at Michigan Speedway, a high-banked, two-mile oval. With this package, cars should be able to race with almost no off-throttle time. The draft will play a role, and vehicles will be able to stay closer together. Overtaking might be easier and breaking away with the lead harder. If the races at Kansas or Charlotte taught us anything, it's that this package works better with cooler temperatures and a grippy racing surface with banked turns.
Fortunately, Michigan was repaved the same year as Kansas — 2012. A recent repave on an intermediate-sized track is the type of venue that might be the only thing to keep the package from being a total failure because flat tracks or rough surfaces haven't helped the racing a bit.
Photo: Jonathan Ferrey / Getty Images