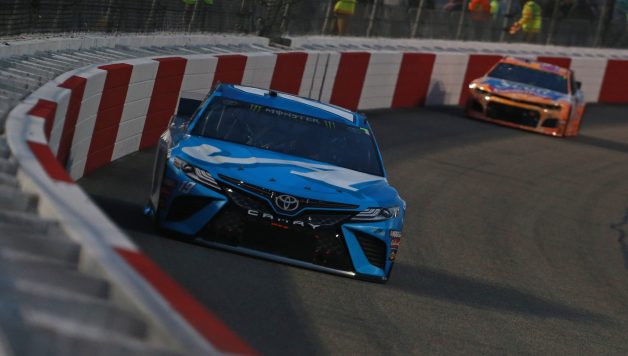 Things will turn around soon for Larson, right?
Kyle Larson's season hasn't been what most people would have expected.
It's been plagued with misfortune and costly mistakes. Saturday night wasn't any different.
"Just a lot of bad luck really," he said after crashing out. "It's been a pretty crappy start to the year. … It's not been fun. Hopefully, we'll get things turned around and have some better luck."
After winning four races in 2017, it looked like he was ready to leap into stardom. He took Chip Ganassi Racing to the next level, and it seemed like he could be a championship contender for years to come.
But he failed to win a race in 2018. Easy to say, "OK, one off year isn't the end of the world. He'll be back strong this year."
It hasn't been that way, though. Other than Atlanta where he led 142 laps, it's been a miserable two months. He only has two top-10s while his teammate Kurt Busch has only three finishes outside the top-10.
Larson is undoubtedly frustrated. But he has to ride the storm and earn a win to clinch a postseason berth. He can be a threat when the playoffs come around. But the start of 2019 has been one to forget.
Busch's penalty was the best part of the race
Oh no. Another Kyle Busch show.
At least that's what it looked like until midway through Stage 2.
Then he sped on pit road, and he lost the lead. He didn't make it back to the top-five until the final stage.
Unless you're a Busch fan, it was a breath of fresh air to see a car not numbered 18 in the lead. Busch has been unstoppable in anything and everything he drives lately. If the 1990s were the Earnhardt/Gordon era, the 2000s the Johnson era, then the 2010s must be the Busch era.
He's always been a polarizing figure in NASCAR. He gets showered with boos at every driver intro. The majority of fans would like to see him not win. When he screws up, fan interest always tends to increase.
He still finished eighth. He's yet to place outside the top-10 this year. It looks like that superstitious "top-10 streak" beard will live another two weeks.
Buescher needs a better opportunity
Chris Buescher has been running well with his JTG Daugherty Racing team this season, but it looks like the No. 37 has reached a new level.
Buescher started seventh and ran in the top-five early in the race. He even passed Kevin Harvick for fourth.
Yes, a JTG car passed a Stewart-Haas Racing car. That's not supposed to happen.
Buescher is one of the most underrated drivers in the series. He won the 2015 Xfinity Series title with a lackluster Roush Fenway Racing program. Since then, he's yet to drive for a Cup team with more funding than Front Row Motorsports or JTG.
Ultimately, he finished 22nd. He lacked long-run speed, which is always crucial at Richmond. But he's a natural talent, and everyone knows it.
So, what would Buescher's performance be like if he were piloting an SHR, Team Penske or Joe Gibbs Racing car? He'd probably be a weekly contender and eventually a regular race winner. But for now, he's making the most of what he has.
Why the obsession with Truex and short tracks? 
Every time NASCAR visits a short track, the broadcast booth has to bring up the fact that Martin Truex Jr. has never won on one in his Cup career. He finally won one after 81 attempts, but so what?
He's won a Cup title, the Coca-Cola 600 and the Southern 500. Why does it matter if he wins at a short track or not? Yes, he's come painfully close to wins at Richmond and Martinsville, but a win at one of these venues doesn't do anything to his repertoire.
Truex loves racing at Richmond, and he's happy to break a winless drought that has lasted since last year's Kentucky race, but it's not like this is a Daytona 500 victory. It's his 20th career win — something that only 41 other drivers in NASCAR history have achieved — that's more substantial than a victory at Richmond.
Prerace tech took longer than the race itself
The prerace technical inspection took three hours and 20 minutes to complete. Eight drivers failed inspection on their first attempt. Then three drivers failed on the second attempt.
The race took 20 minutes less than inspection on Saturday afternoon. That's an unflattering footnote. Meanwhile, across the country in Long Beach, California, there weren't any cars in the IndyCar Series to fail post-qualifying inspection.
What gives? Is it a NASCAR problem or an issue manufactured by the race teams?
It's a little bit of both. Every team is composed of several mechanics and engineers who were specifically hired to build the fastest car they can without breaking the rules. But they push the boundaries and rightfully are penalized by the sanctioning body when they cross the line. NASCAR has made punishments more severe, so kudos to them, but maybe it needs to make consequences even worse.
Aside from that, it's another example of how NASCAR has too many rules. Drivers have criticized NASCAR for years about it. Teams don't have much leeway in setting up their cars, and the result is everyone running nearly identical lap times. But if all the vehicles run almost equal laps, how can one expect to see a lot of passing throughout a race?
Photo: Matt Sullivan / Getty Images