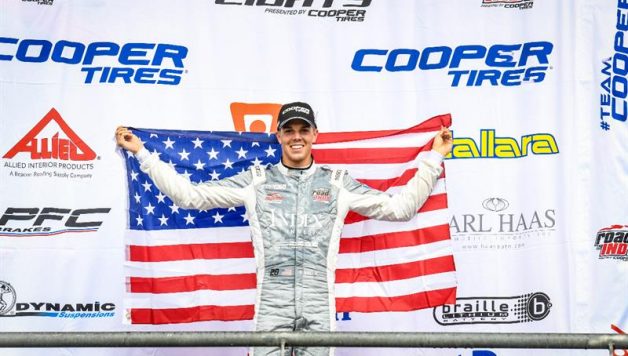 Oliver Askew sweeps Indy Lights weekend doubleheader at COTA
By: Kyle Magda
AUSTIN, Texas — Oliver Askew made it a clean sweep of the Indy Lights weekend Sunday morning at the Circuit of The Americas.
Askew lost the lead to Andretti Autosport teammate Robert Megennis in the first turn. Then Saturday's winner got it back on Lap 6 when re-passed Megennis on the inside of Turn 11.
A late caution for the stalled car of Zachary Claman bunched up the field, but Askew got the jump and pulled away to a 2.2-second victory for his second win in as many days.
"It's always a good end of the weekend when you have champagne," Askew said. "Really happy with the result this weekend with two poles and two wins. At the start, we just focused on getting through Turn 1, and we had a really good race pace.
"I left the door open and I think I trusted Robert too much and he got me on the inside. I settled into second and remained cool. One lap, we were using most of our push-to-pass down most of the straightaways, and I got him into Turn 12. The car was on rails this weekend."
Megennis led his first laps in Indy Lights after making the bold move on his teammate but had to settle for second once the checkered flag flew. The rookie driver had a mirror full of David Malukas in the final laps and held off his hard charge to make it two podiums on the weekend.
"It was a great race," Megennis said. "I had a great start, got to the inside of Oliver in Turn 1, made it stick and passed him. Led the first five laps, pushed as hard as I could and then Oliver got by. It was not too bad for second place. I just burned my tires off too much."
Malukas started last in the race and worked his way up once the race's only yellow flag flew. He got a good jump for the restart on BN Racing teammate Toby Sowery and closed in on the runner-up spot in the final four laps. Malukas breathed down Megennis' back bumper in the closing stages and recorded a third-place finish.
"It was intense, I had a good strategy," Malukas said. "Obviously once the race first started, I had a bit of a gap to everybody else so I can save my push-to-passes. I thought everyone would run out at some point. I pushed really hard with the car after I saved the tires."
Askew leaves Austin as the new Indy Lights points leader, now six markers ahead of fourth-place finisher Rinus VeeKay.
Results:
1. Oliver Askew
2. Robert Megennis
3. David Malukas
4. Rinus VeeKay
5. Julien Falchero
6. Toby Sowery
7. Dalton Kellett
8. Lucas Kohl
9. Ryan Norman
10. Zachary Claman
Photo: Indy Lights