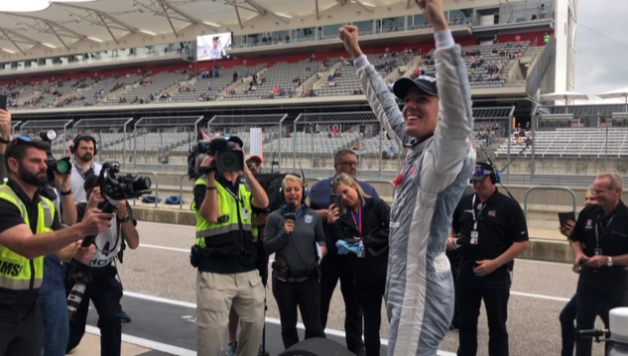 By: Kyle Magda
AUSTIN, Texas — Pole-sitter Oliver Askew led flag-to-flag for his first career Indy Lights win Saturday at the Circuit of The Americas.
Askew drove a flawless race and never looked back in an exciting first round in Texas this weekend.
"I'm really happy with the result today," Askew said. "I think with 1-2-3 [for Andretti Autosport] in qualifying and the pace in the race, I think we can be really happy. Overall, the week has been good for us so far. The start I knew I had to get through Turn 1 clean and just hit my marks, and we were going to be in good shape. That's how it turned out. We'll try to keep pushing for tomorrow."
The Melbourne, Florida native won over 24 seconds while those behind him were jockeying for positions.
"I wasn't flat out for a majority of the race, just trying to conserve my tires in case the caution came out," Askew added.
"Trying to figure out what we can do better for tomorrow is all I was really focused on. When you have a gap like that, you start to think maybe it can go wrong. I think these cars are built really well and really happy."
The real race was for second through fifth, as the spots swapped rapidly throughout the 20-lap event. Toby Sowery and Robert Megennis battled for second, then St. Petersburg winner Rinus VeeKay dueled with Megennis for the runner-up spot in the closing laps. VeeKay prevailed over the Andretti driver at the end for second-place.
"It was a very hard race," VeeKay said. We were struggling a little bit in the beginning of the race. Then, it was just making sure they were fighting, and I was just closing the gap and getting close in the push-to-pass window. I got there and was quite a nice battle with Toby, and then afterward, I gained quite a lot of speed in the last laps and got past by Robert."
Megennis ended up third after trading the runner-up spot with both VeeKay and Sowery for most of the event.
"The race was out-of-control," Megennis said. "In the first half, it was back-and-forth with Toby. The last five laps, it was back-and-forth with Rinus. It was so much fun. The long straights and the push-to-pass here make for some really good racing. I haven't done a race that fun in my entire life."
Julien Falchero and Ryan Norman completed the top-five in the first of two Indy Lights races this weekend at COTA. Askew will also lead the field to green in Sunday's race while looking for a weekend sweep.
Photo: John Haverlin