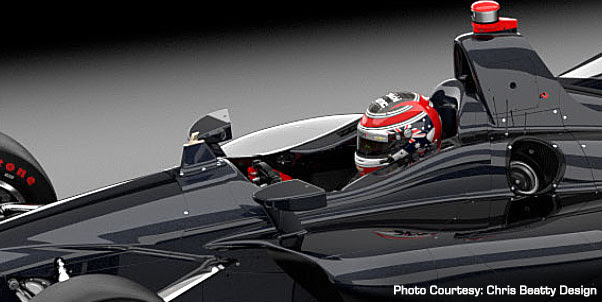 On Tuesday, INDYCAR introduced its latest technology designed to give more protection to the cockpit area of its cars.
The Advanced Frontal Protection, a titanium device made by Dallara, will make its debut at an Indianapolis 500 test on April 24.
The device is a little more than three inches tall and about three-quarters of an inch wide. It runs along the centerline of the chassis in front of the cockpit. Viewing it from the side of the car, it looks like a trapezoid-shaped shield.
"Safety is a never-ending pursuit, and this is INDYCAR's latest step in the evolution," INDYCAR President Jay Frye said. "There are more details to come about the phases to follow."
Compared to other cockpit protective devices, such as F1's halo or the windscreen IndyCar tested last year, it's pretty compact.
How can a three-inch piece of metal protect a six-foot driver?
The AFP is durable. It's passed the same strength tests that Dallara's roll hoop endured. The main function of this piece is to deflect debris away from the driver.
It'll probably be most effective when the car is sideways or spinning. If the driver gets caught up in a wreck and there are pieces of metal or any other debris flying around during the melee, then the AFP might stop anything that would have hit the driver.
The AFP probably isn't going to be a long-term solution for deflecting carnage away. There will be more reliable devices installed in the coming years to improve safety. But IndyCar can't install a halo-type device on its cars yet because they wouldn't fit on the current Dallara chassis.
The windscreen, although well-received by the drivers who tested it, can't be used yet either. PPG Aerospace, which has helped develop the device, said it still needs improvement before it can see race action.
The first race the AFP will be utilized is the Indy 500. It will remain on the cars for every race through the rest of the season.
Photo: Chris Beatty Design