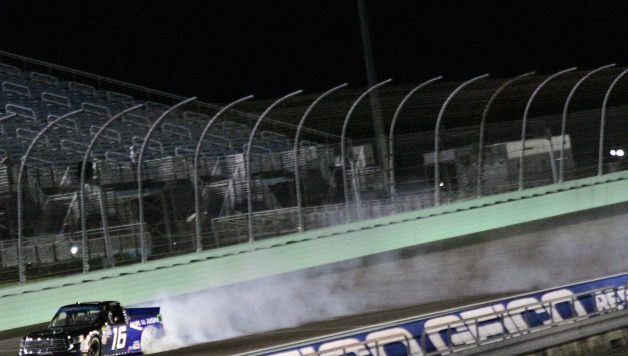 Noah Gragson leaves Homestead disappointed, but wiser as Brett Moffitt takes truck title
HOMESTEAD, Fla. — Before the final round of green flag pit stops in the Ford EcoBoost 200, Brett Moffitt and Noah Gragson exchanged slide jobs and dueled for the lead.
Gragson believed he had a flat tire after making slight contact with Moffitt and attempted to make his final pit stop of the season with about 30 laps to go.
However, his Kyle Busch Motorsports truck didn't handle well enough and he could get slowed enough to enter pit lane.
"I just started getting really tight. Three laps before we came down pit road and I thought I was getting a left front flat just by the feel of it," Gragson said. "Wasn't really sure. I think I just over-blitzed it early on in the run and we were just too tight. It was just driving off the front tires."
Moffitt came away with the championship. He'll celebrate this weekend and Gragson will endure the pain of defeat the next few days. But in the long run, Gragson seems to be in a better position.
"Most importantly, I learned a lot," he said. "My guys at Kyle Busch Motorsports brought me a hell of a Safelite AutoGlass Toyota Tundra. … I feel like this is one of the best races we ran this year."
Gragson will drive the No. 1 Chevrolet for JR Motorsports in the 2019 Xfinity Series season. He's moving up the NASCAR ranks. Moffitt, on the other hand, doesn't have a ride secured for next year.
Moffitt has more experience than Gragson, and he's competed in a few dozen Cup races. He was the 2015 Rookie of the Year and has floated from team to team in NASCAR over the last three years.
Does Gragson feel Moffitt's experience was the reason he was able to win the title?
"It's no excuse by any means. It definitely helps if I ran 45 Cup races. I'm sure I'd be able to get around this place pretty good too."
Spec-tacular?
Moffitt's team, Hattori Racing Enterprises, ran the Ilmor spec engine on Friday night. The motor was introduced to reduce costs and level the competition before the season began. HRE was forced to use the engine for the finale. Was there an advantage to using it? Winning crew chief Scott Zipadelli didn't think so.
"I don't feel like there's any gain in the financial program," he said. "I'm not an engine guy, and I hire an engine guy to build my engines. … When you go to a spec engine, you own them and you have to be responsible for it. You have to check the filters, you have to check the mileage, you have to take care of all of those parts and pieces.
"When you don't own them in a lease program, you drop one off and you pick one up. … You know that the leasing company is going to give you everything they can because they want to win."
Other news: Snider wins ROTY
Myatt Snider won the Rookie of the Year award. He drove for ThorSport Racing and had eight top-10s in 23 races. ThorSport switched to Ford power this year after running Toyotas for a few seasons.
ThorSport was the only full-time Ford-based organization. So, did that make things harder or easier for Snider and the team? Did they live up to expectations?
"I honestly liked it. I really liked working with Ford Performance. … So they've definitely helped us out a bunch, and I think that moving to Ford was a really smart move for ThorSport."
Photo: Christian Koelle / CCK Photography