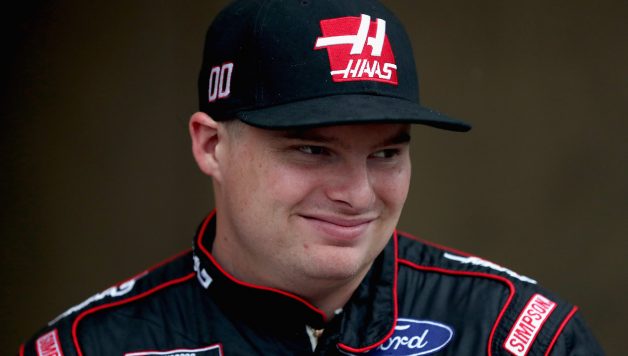 Custer and Gaulding, once K&N rivals, join Rick Ware Racing as teammates at Richmond
RICHMOND, Va. — Five years ago, Cole Custer and Gray Gaulding were rookies in the NASCAR K&N Pro Series West competing in the season finale at Phoenix (now ISM) Raceway.
Custer started from the pole and led 99.9 percent of the 2013 Casino Arizona 50. The 0.1 percent he didn't lead was the final corner of the last lap when Gaulding performed an aggressive bump-and-run which led to him winning the race. Custer spun out just a few hundred feet before the finish line and ended up sixth.
Gaulding, who was 15 years and nine months old at the time, became the youngest winner in NASCAR history. He said his move was just an act of desperation trying to earn his first win.
This weekend, the two are teammates at Rick Ware Racing. Custer will drive the No. 51 with support from Stewart-Haas Racing while Gaulding pilots the No. 52 Ford.
"You look back on it now, I'm 20, and he's 20, and it was five years, ago, but it was my first NASCAR win," Gaulding said. "It was nothing personal; it was just a racing deal, I hate to say. If it was my grandmother, all the points are off the table, and I'd probably take her out too."
To this day, Gaulding defends his move. He wouldn't do anything different and would be OK if the same were done to him.
"If (Custer) were standing here right now, I wouldn't turn back on it," Gaulding said. "NASCAR races — no matter what series it's in — are hard to win. You hate to have to win it like that, but at the end of the day, a win's a win. I only led about 500 feet of that race, but I led the most important part."
Custer doesn't remember the race fondly for obvious reasons. But he acknowledges that it's all water under the bridge, and his relationship with Gaulding has never been strained because of the incident.
"I mean it was a long time ago," Custer said. "Me and Gray haven't had any problems since then. It's all good. I don't know what it matters, five years ago. I don't think anybody wants to spin someone out for a win. But I don't see anything wrong with somebody bumping someone for a win."
"You look back on that stuff, and we laugh about it now," Gaulding said. "Cole is a great guy, and we've raced each other five or six years now. He's running Xfinity, and I've been running Cup. At our young ages, we knew our paths would cross again."
Photo: Matt Sullivan / Getty Images