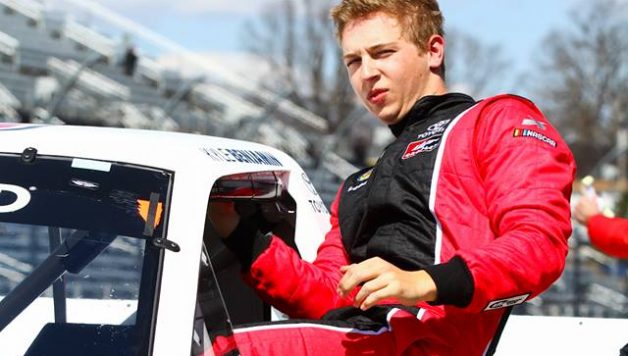 JH Nemechek wins, but Kyle Benjamin shines at Martinsville
Published On March 26, 2018 |
News
MARTINSVILLE, Va. — Ben Rhodes dominated, John Hunter Nemechek won, but Kyle Benjamin stole the show.
Benjamin, in his Camping World Truck Series debut with David Gilliland Racing, finished second in the Alpha Energy Solutions 250 at Martinsville Speedway. He battled Nemechek the final 12 laps while on the oldest tires in the field.
Nemechek's No. 8 led 31 laps en route to the victory. Being on the fresher rubber, he held off the No. 54 of Benjamin without an immense struggle.
The two kept it clean and made it to the checkered flag without hurt feelings or damaged race trucks.
"You don't want to make any enemies, and I try to race people the way I want to be raced," Benjamin said. "I'm fine booting somebody if it's for a win, but not anything that would be out of control."
Had Benjamin attempted to move Nemechek out of the way in the final turn, he would likely have wrecked both trucks. Brett Moffitt, who finished third, probably would have won.
Benjamin doesn't have a full-time position in the Truck or Xfinity Series, and his opportunities competing at the national level are limited. Had he wrecked Nemechek for the win, it wouldn't be a good look, yet it'd still be somewhat understandable.
"I was hoping for a long run at the end; we just didn't get what we needed there," Benjamin said. "We just had a really fast truck, and I think it showed on that one long green flag run that we had."
For Nemechek, it was the sixth win of his Truck Series career. However, he only earns points in the Xfinity Series and won't be eligible for the Truck playoff.
Rhodes started from the pole and led 134 laps. He earned two stage victories but finished 12th.
DISCLAIMER: Thoughts and opinions reflected are only those of the writer. Follow him on Twitter @JohnHaverlin
Photo: Jonathan McCoy