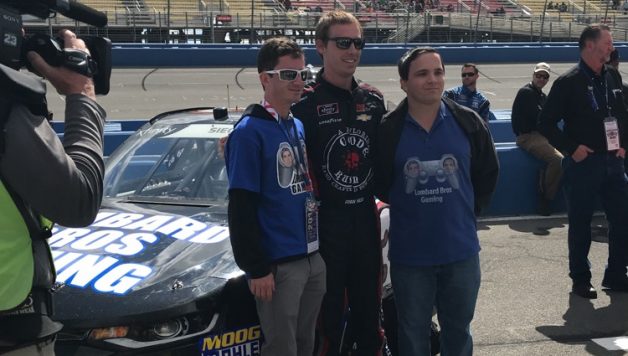 Trackside with Dominic Aragon: What you didn't see at Auto Club
One of the more satisfying trackside experiences happened for me this weekend.
Besides the thrill of being at the racetrack, there are some other fascinating stories that sometimes never get the coverage they deserve.
If you've ever been to a NASCAR weekend, you know that the Xfinity Series races are a more laid-back environment.
There are fewer people at the track, and the drivers and teams are much more accessible than the guys who run on Sunday.
One of the more moving experiences was seeing the Lombard Bros. Gaming company on board Ryan Seig's No. 39 Chevrolet at Auto Club Speedway.
Brothers Joseph and Zachary Lombard run a company that focuses on online gaming and interacting with their fan base.
They have a large following because of some of their NASCAR videos on YouTube, and a big drive behind their success has been from family support.
I had never met the brothers personally, but I knew of their story through some of the racing groups I am part of online.
Their father, Christopher, really helped with his sons' passions and NASCAR has helped the family bond together.
Unfortunately, Christopher's life was cut short in 2017 when he was assisting a stranded motorist, and both were struck by a vehicle.
A dream come true
Last week, the brothers had announced via social media that they would be sponsoring Sieg and his efforts at Auto Club.
I saw a mock-up of the car and thought it looked sharp. I made it a point to our photographer on-site to grab a photo of it.
I chatted with the brothers post-race, and will break that down in a story you'll see later this week on The Racing Experts. They told me they were thrilled to have their logos on a car. They said their dad would be proud.
Another neat surprise was that their father's name rode on the race car, on the right side above the door. The team revealed it to the brothers the morning of the race.
Helping out
I walked to pit road before the start of Saturday's race because I was looking for their car. I wanted to snap a few cell phone pictures.
As I proceeded along the starting grid, I saw a security guard telling the two brothers to get off pit road. Track security can get interesting because if you don't have an annual credential issued by NASCAR, or aren't brought to pit road with somebody who has one, you can be booted at anytime.
Thankfully, I have a media hard card and was able to help escort them to their race car. How horrible would it have been to be sponsoring a race car, and not even be able to stand next to the driver and the team before the race?
Takeaway
At the end of the day, the old cliché about NASCAR being a family proved right once more. We all try to help each other out once in a while, no matter what our job or function may be at the racetrack.
We do what we can within our means.
It was cool to see a couple of 20-something-year-olds and their company alongside a race car, and in honor of their father.
The team was happy with their 20th-place finish, the Lombards were delighted with their experience, and I was glad to witness another heartwarming story at the track.
DISCLAIMER: Thoughts and opinions reflected are only those of the writer. Follow him on Twitter @DominicAragon
Photo: Dominic Aragon