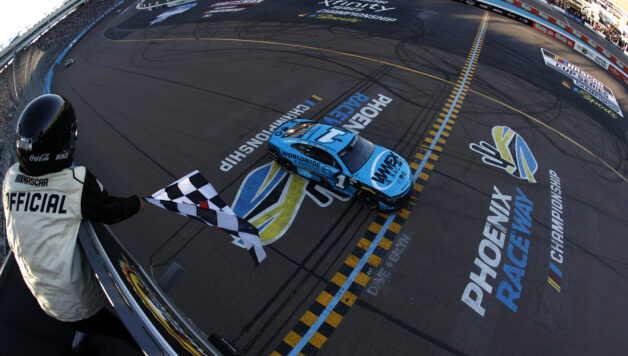 Did Ross Chastain's battle with Ryan Blaney at Phoenix change the etiquette of NASCAR's title race?
The two drivers with the most to lose while battling each other during the final stage of the NASCAR Cup Series championship finale at Phoenix Raceway on Nov. 5 both ended up being the ones to celebrate with wins.

Two winners in one race? Yep. For the first time in the elimination-style playoff format era, which is now a decade old, the driver who won the Cup title didn't also win the Championship 4 race.

Ross Chastain took home the Phoenix trophy, but Ryan Blaney, who finished runner-up to him, earned his maiden NASCAR championship.

Blaney raced Chastain with a sense of urgency in the final half of the Cup finale since Hendrick Motorsports drivers Kyle Larson and William Byron were still hunting for the title. The Team Penske driver felt he had to get past Chastain because if he didn't, he might get backed up to the front bumper of Larson or Byron. If that had happened, the Bill France Cup might have slipped away.

But Blaney failed to pass the Trackhouse Racing driver before the checkered flag waved. It didn't matter, though, as he maintained his position over the No. 5 and 24 drivers to give Penske its second consecutive NASCAR championship.

Typically, drivers who aren't competing for the title give those who are a little leeway since they have more at stake. That's been the standard since 2014, but Chastain took this courtesy with a grain of salt and kept after the win for himself.

He knew it'd draw the ire of Blaney, but as many racecar drivers are, not because they want to be but because they have to be, he was selfish and thought only about what he needed to do for his team, which was finishing first.

"I know he's mad, and I don't care. I do not care," Chastain said about Blaney after the race. "I did not care then; I do not care now.

"It's nothing other than wanting to win and hold track position. He could run second and win the championship. He did it last year. He can do it again. He ultimately did it."

Blaney admitted he was frustrated with how Chastain raced, and it was understandable why he was. Blaney had more on the line than just a race trophy, and his crew chief, Jonathan Hassler, believed racing the No. 1 car as hard as possible was the proper decision.

"Racing with the 1 there at the end, I think it was 100 percent the right thing to do," Hassler said. "I think the more cars that we can get between us and those other guys, in the event we have another pit stop later in the race, is going to be a huge help for us obviously with the 24 and the 5 having those really good pit stalls.

"I'm definitely fine with it. I think that was what we needed to do. There definitely came a point where the 1 and the 19 (Martin Truex, Jr.) were up there; we kind of needed to lay down for a minute and just hold our own. He finally did that when the time was right for that."

At one point, Blaney reached his boiling point and gave Chastain the proverbial "You're No. 1" gesture, and it wasn't with his index finger, nor was it anything to do with his car number. He also gave the Florida native a firm tap on the rear bumper in the middle of the corner during a green flag run to maneuver him out of the way.

Blaney was asked if the contact was on purpose, to which he said: "Well, f—ing right, I hit him on purpose. I mean, yeah, I hit him on purpose. He blocked me on purpose 10 times. So, yeah, I hit him on purpose."

The race ended with both drivers doing burnouts on the frontstretch, so no harm and no foul since both achieved their goals. But Chastain may have changed the way future NASCAR championship races transpire.

It wasn't the first time the away-from-the-track watermelon farmer pushed the boundary of what was seen as acceptable. Chastain famously performed the "Hail Melon" to advance himself five on-track positions at Martinsville Speedway on the final lap last season, and he became a Championship 4 contender because of the daring move.

For the same man to push the envelope and not show the same amount of consideration for Championship 4 drivers as shown in previous seasons isn't surprising. So now that he has set a new precedent, will drivers in future championship races compete more aggressively against those vying for a title?

"I'm proud that we won," he said. "I watched practice back yesterday morning, Saturday morning. I heard Dale Earnhardt Jr. say, Ross will be one, get up and race these guys. I paused it. I'm like, Would I do that? I don't know. That seems kind of aggressive.

"Then I got out there, and I was like, I'm doing it, I am racing them. The difference was I was not going to use my front bumper, front fenders, or side. I'm not going to pinch them up into the wall.

"Yeah, in my mind the whole time, proud of the precision driving we all did. The only contact was him just in a moment of anger, throttling up in (Turns 1 and 2) and driving square up into my back bumper. Other than that, no contact. That's what I'm here to do."
Editor's note: This column can also be found in the championship edition of the New Mexico Motorsports Report magazine.
Photo Credit: AVONDALE, ARIZONA – NOVEMBER 05: Ross Chastain, driver of the #1 Worldwide Express Chevrolet, takes the checkered flag to win the NASCAR Cup Series Championship race at Phoenix Raceway on November 05, 2023 in Avondale, Arizona. (Photo by Sean Gardner/Getty Images)