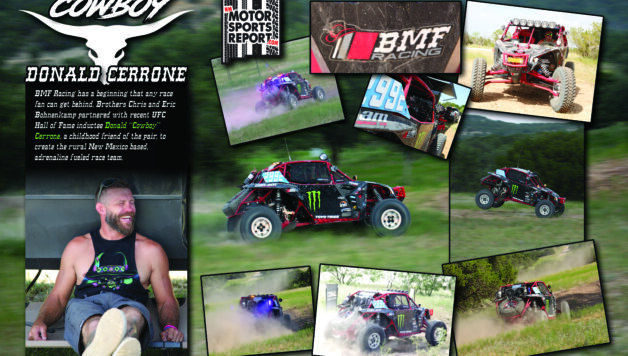 Donald "Cowboy" Cerrone: UFC Hall of Fame Fighter Turned Racer
BMF Racing has a beginning that any race fan can get behind. Brothers Chris and Eric Bohnenkamp partnered with recent UFC Hall of Fame inductee Donald "Cowboy" Cerrone, a childhood friend of the pair, to create the rural New Mexico based, adrenaline fueled race team.
While Cowboy headlines the team and mans the driver seat, the brothers bring their marketing repertoire, social media prowess, and navigational ingenuity to the team to help Cowboy reach that podium finish consistently. Cowboy Cerrone, the original BMF and driver for BMF Racing, isn't afraid to consistently push the limit of his vehicle in desert racing. The "Co-Dog" seat, manned by Eric, is special because of the need to have trust, communication, and a speed of their own to repair any small hiccups during the race. This is what makes BMF Racing so special. Each member not only brings a certain expertise to the team, but brings familiarity and certainty that can't be found just anywhere. BMF Racing has raced many races in a variety of vehicles over the years but most prominently, their Can-Am Maverick built by S3 Powersports. Alongside Cowboy is his son, Dacson Danger, who is getting into racing with his youth UTV. He is  the youngest kid to have ever ran the youth Mint 400 race. Thanks to BMF Racing's sponsors Canam, Monster, VP, Toyo, KMC, and many others, You can expect to see BMF Racing at races like Best in the Desert, the Mint 400, Baja, STORR, DP4, and most recently Nitro Cross.
As anyone in the racing scene knows a race team is incomplete without a competent head mechanic to prep the race car before every race. After meeting him at a local Powersports shop, Cowboy noticed the talent, creativity, and reliable expertise of Ryan Bowen. From his meticulous research, to his rigorous work ethic, Cowboy knew he'd found the right man for the job. The new opportunity for the then 22 year old sprouted into an incredible journey, as Ryan has accompanied the crew on two years worth of professional races all over the western United States. This partnership provided exponential amounts of opportunity for Ryan to chase his dreams of not only being involved in the racing scene as a mechanic, but also as a driver. Ryan built his own Can-Am race car using some scrap parts from Cowboy's car. All in Thanks to their local sponsors Sandia Trailer, Pizza Barn, Shorty's BBQ, Visual Dreams Embroidery, & Action security Iron, Ryan and his Co-Dog Dillon Leblanc have been on the track multiple times, racing in the STORR and Best in Desert racing series alongside BMF Racing, with two podium finishes and currently in the lead for the 2023 STORR UTV Sportsman Championship. Also established by Ryan and endorsed by BMF Racing and Cowboy himself,  Apex Powersports & Racing, is a soon to be opening premiere UTV racing shop for all off road and racing enthusiasts to repair, upgrade, and learn from racing experts.
BMF Racing and APEX have had a goal of being the powerhouse of the offroad racing scene since their inception. While they work hard in harmony to chase this dream, there will always be one purpose in mind when the teams hit the track, win.
Photos Courtesy of JC Silva Media