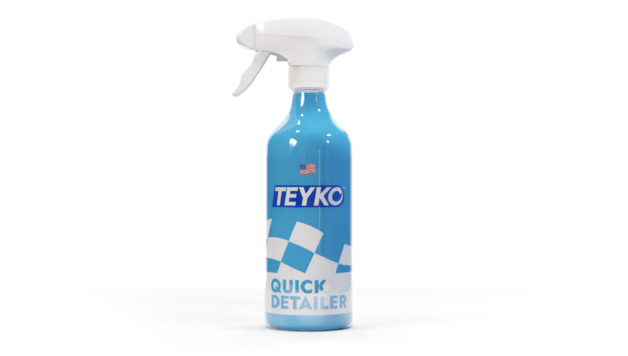 Gabriel Campolla Makes A Better Automotive Quick Detailer – Teyko Automotive Lifestyle
Published On August 24, 2023 |
Top Posts
After spending 15 years perfecting the art of detailing cars both professionally and personally, we founded Teyko Automotive Lifestyle with one simple goal in mind – to enhance the joy and satisfaction of car enthusiasts during their detailing process.
During our experience, we noticed a significant gap in the market for quality auto care products that were affordable and effective. Driven by our passion for cars, we dedicated ourselves to creating a superior product – Quick Detailer.
Don't be fooled by its straightforward name – Quick Detailer is a three-in-one formula that delivers body shine, waterless wash, and spray wax benefits in one easy-to-use solution. Our Quick Detailer is perfect for everyday enthusiasts who seek a high-quality product without breaking the bank.
Our mission is to simplify the process for car enthusiasts by providing them with a reliable and effective product, thereby avoiding the hassle of dealing with countless gimmicky versions of the same products. We are thrilled to offer Quick Detailer and a range of other products that we have in store for you.
Our inspiration came from racing pit crews.  Imagine you're a world-famous race car driver, and we're your pit crew! We help you keep your car in tip-top shape so you can dominate any track you come to. As true enthusiasts ourselves, we understand the importance of the little details that make all the difference. And that's why each of our Teyko products come with a special surprise or two, designed to put a smile on your face. As a team, with you in the driver's seat, we're becoming world champions.  And that's why… we're your biggest fan.
2 EASY STEPS 
WASH
To begin the process, the car should be sprayed down with high-pressure soap to loosen and remove dirt and grime from the surface. The soap should be allowed to sit for a few minutes to work its magic before being rinsed off with clean water.  The wheels and tires should also be cleaned thoroughly to remove any brake dust or debris. After washing, the car should be rinsed off to remove all soap residue. Finally, the car can be dried with a soft towel or chamois to prevent water spots from forming. Whether washing by hand or with a touchless car wash, following these simple steps will help to keep a car looking clean and shiny.
FINISHING
Spray Quick Detailer onto your vehicle's paint surface and gently wipe away.  Fold your towel into quarters, so you can easily flip to a fresh side. The quick detailer will lift away any dirt or dust, while the spray wax will leave behind a protective layer that helps to maintain the car's shine. This process can be done quickly and easily, making it a great option for keeping a car looking its best after and between washes.
Quick Detailer can be used on any type of vehicle, including cars, trucks, and motorcycles. It's a great way to maintain the exterior of a vehicle without spending hours washing and waxing. With regular use, quick detailer with spray wax can help to keep a car's paint looking shiny and new, while also providing a layer of protection against the elements.
Join us on this exciting journey and experience the pride and joy of owning a well-detailed car! TeamTeyko.com