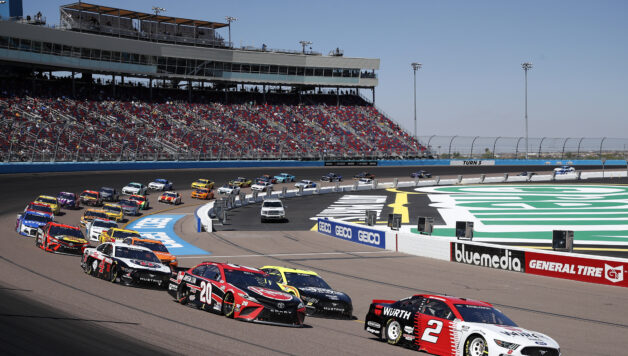 Phoenix race shows that NASCAR's best always rise to the top
AVONDALE, Ariz. — The start to the 2021 NASCAR season hasn't had the typical suspects winning on a weekly basis, but on Sunday, Martin Truex Jr. — now a 28-time winner — earned his first career victory at Phoenix Raceway.

The season started with first-time winners Michael McDowell and Christopher Bell at the Daytona 500 and the Daytona road course race, respectively. McDowell's win was particularly surprising as it was only the third one in Front Row Motorsports' 17-year history. Then at Homestead-Miami Speedway, Chris Buescher had the spotlight for the opening stage with Roush Fenway Racing before William Byron won for the second time in his career.

Kyle Larson won at Las Vegas Motor Speedway last weekend, and then Truex became the fifth different winner in five races.

Team Penske dominated Sunday's race. Brad Keselowski started from the pole, Ryan Blaney won Stage 1, Joey Logano won Stage 2, and led a race-high 143 laps. Hendrick Motorsports was fast, too. Larson and Chase Elliott had to climb from the rear of the field several times at the desert oval before earning finishes of seventh and fifth, respectively.

But it was Truex in the Joe Gibbs Racing Toyota who prevailed. The top-10 had the usuals, including drivers from JGR, Penske, HMS, and Stewart-Haas Racing.

So, what was different about Sunday's Phoenix race compared to the previous four races?

It's a combination of things. Although teams are still unable to practice and qualify due to the pandemic, it's safe to say the cream always eventually rises to the top. So will the "Big Four" teams of JGR, SHR, HMS, and Penske continue to lead the way in the coming weeks?

Probably.

But with Phoenix being the first oval event of 2021 to use the high horsepower and low downforce package, it isn't a surprise to see the best drivers run better in cars that are difficult to handle

"I think the 750 package is harder to drive," said second-place finisher Joey Logano. "I think experience probably comes out more. There are different techniques that I think the experienced guys have learned over the years racing cars that don't have much downforce, a lot of horsepower.

"When you come to a short track, there's comers and goers. Knowing how to go fast on a short run versus a long run, Denny [Hamlin] is probably one of the best at figuring that balance out. I think probably that experience behind the wheel helps, kind of knowing what you need in your race car to go as fast as possible."

Said Hamlin, who finished third: "Most of the experienced guys, the guys that have been around for four-plus years, ran this whole package in 2017. If you have less experience than that, this is kind of a new thing for you, other than we cut the spoilers off on the short track last year.

"You kind of build a notebook on it. You understand how to manipulate the car when it's not handling perfectly. You can move your line around and change some things. That's stuff that takes experience. … We've all been through tire changes, car changes, aerodynamic changes, track changes, that we're ahead of the game, I guess you could say. Especially now that we have no practice, I mean, it lends itself even more to experience."

NASCAR has not had a situation in the knockout-style playoff era where more than 16 drivers win in the first 26 races. It seems plausible now since there have been unusual winners to start the year, but one must believe that the Kyle Busches and Kevin Harvicks of the world will start getting checkered flags as the season progresses.

This year will play out uniquely since there are several new venues and reconfigured tracks before the playoffs begin. Notably, the Bristol dirt race is coming up in two weeks, and if the Eldora Truck Series race over the last several years is any indication of what's in store, there will be a lot of parity in the field for the Cup event.

NASCAR will race at Atlanta Motor Speedway next week. It's 1.5-miler with a lot of character. Surely, experience will prevail there. Harvick is the defending winner at AMS. 
Photo: Christian Petersen / Getty Images