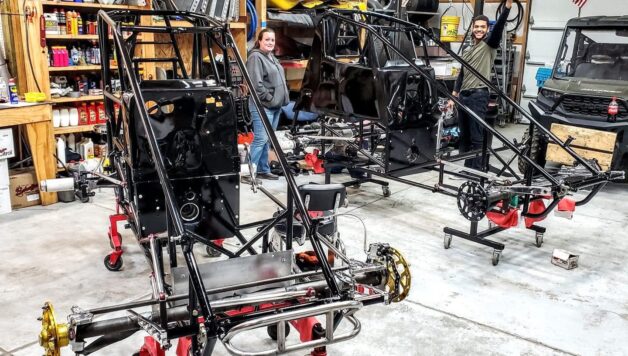 Albuquerque, NM – Entering its 75th year of excitement, the POWRi Lucas Oil New Mexico Motor Racing Association is geared up for one of the most competitive seasons in series history. The bar is set as high as ever and quality teams have made themselves well-known after the shortened 2020 season due to the shutdown.
Caleb Saiz No. 1
We start our season preview with our 2020 POWRi Lucas Oil NMMRA Champion. A new number will debut for Saiz and Hal Burns Racing this season as they do a tribute paint scheme to celebrate the team's second championship together. Saiz captured two wins last season in six races, edging out Spencer Hill by just 7 points when the dust settled in October. Always a powerhouse at Sandia Speedway, Saiz will undoubtedly be one of the drivers to watch in 2021.
Spencer Hill No. 7d7
Hill's consistency was impressive last season as he never once finished outside of the top five. With a total of 229 points Hill finished 2nd for the year in POWRi Lucas Oil NMMRA competition. Surprisingly, a feature win has still eluded the Albuquerque native in Sprint Car racing. That win could happen at any moment this year though, as Hill will return to SEH Motorsports with a newly-numbered J&J Auto Racing chassis as teammate Travis Oldfield takes the reins of the No. 11w in 2021.
Don Grable No. 45x
Expected to be back with Todd Budlong in 2021, you would be foolish to take your eyes off of Grable this season. The experienced El Paso, Tx driver was very fast last season, taking two wins back to Texas. Unfortunately for Grable those two wins were also the team's only top fives for the year as they would experience a rough weekend in Roswell on top of a few isolated incidents at Sandia Speedway. With an entire offseason for Budlong to problem solve Sprint Cars, this could easily be the team to beat this year.
Devon Amos No. 41
The top rookie from 2020 is excited to return behind the wheel of the No. 41 for Hal Burns Racing out of Santa Fe, NM. It was a year of learning for the former ARCA Menards Series East driver, but you wouldn't have thought that if you only saw the last race of the season at the Sprint Car Stampede. He led laps and finished 2nd against some tough competition, solidifying the fact that he belongs behind the wheel of David Burns' car.
Dillon Tanner No. 92
With baby boy, Kash, due any week now Dillon Tanner and wife, Skye, are at the peak of happiness. A hard crash in Texas took the husband and wife team out of competition early in 2020 but they have since gotten their DRC chassis back together and are ready to get back to racing as soon as possible this year with the help of veteran car chief, Wayne Rue.
Rookies
You will notice some new faces in the POWRi Lucas Oil NMMRA series this year as well. 15-year-old Micro Sprint stand out, Caleb Stelzig, will make the move up to sprint cars this season with help from former champion, Michael Fanelli, and Michael Fanelli Motorsports. The young driver tested the blue deuce last year and showcased speed that he hopes will translate in a few months. Craig Stringfellow will be another rookie to keep an eye on as he makes his run for rookie of the year honors.