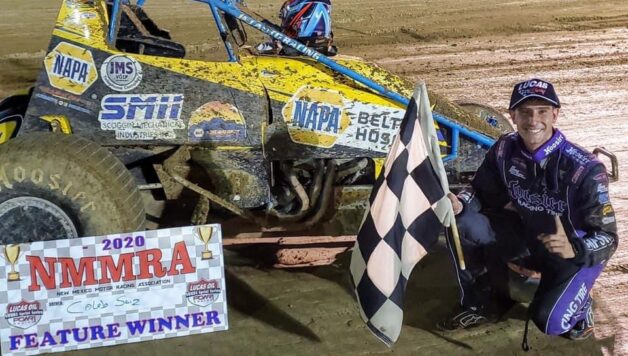 Two-Time NMMRA Champion, Caleb Saiz
Published On November 19, 2020 |
News
Two-Time Champion, Caleb Saiz
By Spencer Hill
Caleb Saiz and Hal Burns Racing were able to make the most out of what was an uncertain 2020 racing season in the land of enchantment by scoring their second New Mexico Motor Racing Association Non-Wing Sprint Car Championship in just three years.
The first championship season for Saiz came in 2018, but there were quite a few noticeable differences between then and now.
"It was definitely different," said Saiz. "In 2018, things were normal back then, and we had a plan where we knew we would run the full NMMRA season and won that, which meant a lot of course. This year, we didn't really know what was going to happen. At the beginning of the year, we were just racing wherever we could and we had to make a decision at the end of the year to decide whether or not we would actually go for the NMMRA championship. That decision was actually pretty easy because we were leading the points anyway. It was a little weird, of course, just the racing in general. Without the fans in the stands, it was just weird."
The lack of fans would not handicap the No. 99 team much as they would find victory lane early in the restarted season at Alien Motor Speedway for the inaugural race for non-wing sprint cars at the facility. Nerves would not hit the team until later in the season, when a handful of hard luck situations arose, allowing others to close in on the points lead. As the final checkered flag fell at Sandia Speedway during the Sprint Car Stampede, Saiz was crowned champion for the second time in three years.
Surprisingly, when asked about how he would grade his 2020 sprint car season, Caleb's answer was not what many outsiders would have said. "I definitely don't give myself an A+ this year. This was a weird year for me; it was the year that I tore up the most stuff. We had a good start to the season, just didn't end it as well. There was room for improvement, especially with racing luck. I would give myself a C-."
Although the 25-year-old was particularly hard on himself, there is no doubt when looking at the statistics that 2020 was indeed a success for the veteran.
"It means the world to be a part of David Burns team, I can't thank these guys enough," continued Saiz. "Dave, Steve, Clyde, Russ, Devon, Randy, Terra and all of our sponsors. Hal Burns Truck and Equipment, NAPA Belts & Hoses, Performance Plus Engines, Scoggin Mechanical Industries, Schaeffer's Racing Oil, Race Simpson, Hoosier Racing Tire Midwest, Weise Auto Supply, JMS Phone Technologies; without all of these people it would be a lot more tough and more of a one-man show. Fortunately for us it's not that way."