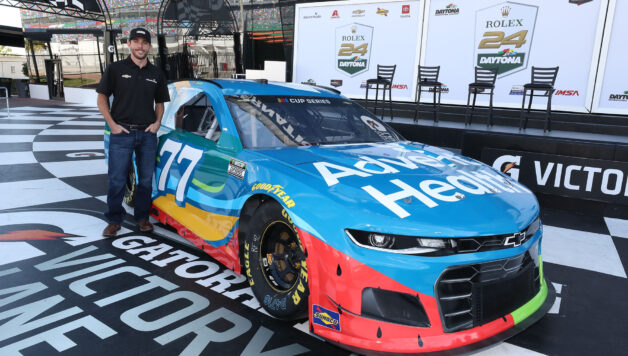 Spire Motorsports purchases Leavine Family Racing assets as team builds for future
When Spire Motorsports announced its plan to race in the NASCAR Cup Series after the 2018 season, it bought the charter of Furniture Row Racing — a former Joe Gibbs Racing aligned team — to guarantee that its No. 77 entry would be in all 36 races.
Nearly two years later, Spire has again acquired the charter of a JGR partnered organization — this time in Leavine Family Racing.
Spire will field two full-time cars in 2021. It's not yet known what drivers will race, if the team remains in a technical partnership with Rick Ware Racing, or what the second car number might be. But what is certain is that Spire is in NASCAR for the long run, and its owners believe in the economic model of the industry.
"This is an exciting moment for Spire as we take the natural next step in our long-term plan to build our race team and prepare for the Next Gen car in 2022," said Spire Motorsports co-owner Jeff Dickerson. "Bob Leavine invested more than money into LFR and this industry. He built a team brick by brick, and we have long admired how he took his own steps in the garage. He also did it with his family at his side.
"When you build something with your family, it always means a little bit more. His ability to connect with fans was genuine, and we are thankful he chose us to carry this team forward.
"These are no doubt trying times, but I have never been prouder to be part of this sport. NASCAR has managed several difficult situations this spring and into the summer. We believe in the ownership model that NASCAR has built and where this sport is going now more than ever."
Leavine didn't want to be forced into selling his team, but the COVID-19 pandemic altered LFR's financial situation. It planned on using JGR protegé Christopher Bell next year along with NASCAR's seventh-generation stock car, but the delay of the Nex Gen car essentially pulled the plug on LFR's future. Bell will instead drive the No. 20 for JGR and replace Erik Jones.
As for Spire, the team is looking to become more of a contender by 2022. NASCAR industry veterans Jeff Dickerson and T.J. Puchyr own the team, and while the No. 77 is typically a backmarker of the Cup field, that may change in two years.
The Next Gen car will differ from the current vehicle because the cars and parts will come from one source and will need less personnel on the team. Spire will operate out of LFR's shop. It will not, however, acquire any Toyotas, though, as those will be returned to JGR. All other equipment will go to Spire.
Spire won the NASCAR Cup race at Daytona International Speedway in July 2019. It was a weather-shortened event with Justin Haley winning in his third career start.
Photo: NASCAR Media