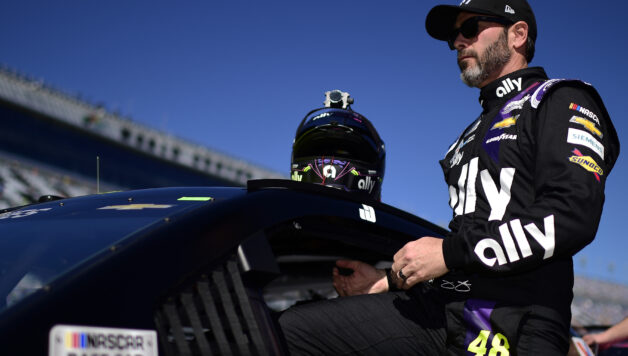 Jimmie Johnson's Darlington race ended early, but he's proved he still has it in final year
Jimmie Johnson's finish in The Real Heroes 400 was 38th on Sunday, but he clearly deserved better.

Johnson, in his final year of NASCAR Cup Series competition, was leading with two laps to go in Stage 1, when he came upon the slower car of Chris Buescher out of Turn 2.

The seven-time champion tried to check up and go to the inside of the No. 17 car, but he made contact with Buescher and spun into the infield wall ending his day early.

Gut punch.

Johnson, 44, has enjoyed a bit of a renaissance in his final season so far. He was particularly strong at Las Vegas Motor Speedway, where he finished fifth three months ago.

Although the result won't agree, he was even better and his home track of Auto Club Speedway in Southern California. He started on the front row, led 10 laps, and wound up seventh.

The Auto Club race was a sentimental weekend for the El Cajon native. For his final race at the two-mile oval, the field made a five-wide salute and his family waved the green flag to start the event.


https://twitter.com/JimmieJohnson/status/1234294757452480512
Johnson tweeted, "My goosebumps were REAL!!" after the race.

During the shutdown from the coronavirus pandemic, Johnson participated in two of IndyCar's iRacing events. He wasn't particularly flashy with finishes of 16th and 12th, but it certainly captured the attention of fans — whether it'd be of stock car or open-wheel racing.

In February at IndyCar's Spring Training at Circuit of The Americas, Johnson was a guest of Arrow McLaren SP, the team whose foray into the paddock came during the offseason. Johnson is familiar with McLaren as he tested a Formula 1 car in a ride swap with Fernando Alonso at the end of 2018.

He seems destined to get a chance to race in a real IndyCar race in 2021, but for now, he has unfinished business in NASCAR.

"We have great race cars and things are coming in the right direction, just unfortunate that things didn't really turn out there off of Turn 2," Johnson said. "There's a race in a few days and we'll be back. Stuff happens, it's racing. The good news is that the 48 is fast, my team is on it, and my Camaro is fast.

"This will sting a little … no doubt. But I will use this and learn from it. I will be back Wednesday and then it's on."

Johnson will have his work cut out for him on Wednesday for the 310-mile race at Darlington Raceway. He'll start 38th, but if anyone can work through the field, it's him. Once he's in mid-season form, one must believe he'll be challenging for wins again.

Who says Jimmie Johnson is finished?
Photo: Jared C. Tilton / Getty Images