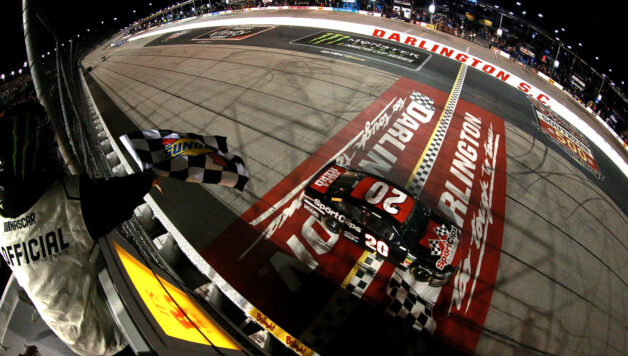 Track president Kerry Tharp discusses NASCAR's return at Darlington Raceway
May 17 will mark the return of NASCAR competition, which will take place at Darlington Raceway in South Carolina. Stock car racing will be the first major sport to resume activity since the COVID-19 pandemic halted nonessential businesses, such as sports, in the second week of March.
The sanctioning body will enforce strict health and safety protocols at the track as recommended by state and local officials, the CDC, and the OSHA. Violation of the guidelines can result in a fine ranging from $10,000-$50,000 for Cup Series crew members.
No fans will be in attendance, but the upcoming races from Darlington and Charlotte Motor Speedway will be televised on Fox and FS1. NASCAR still plans to run all 36 Cup events in 2020. The two extra Cup dates added to Darlington, and one added to Charlotte replace the race weekends planned for Sonoma Raceway, Chicagoland Speedway, and Richmond Raceway's spring event.
"About 14 days ago, we started getting an idea that we are going be hosting some races in May," Tharp told NMMR. "… I think our sanctioning bodies started thinking about 'Hey, how are we going to get back to racing once it's safe?' So I think they started having conversations and start putting together plans, protocols, and things of that nature probably towards the end of March.
"I first got a phone call on or around maybe the week after Easter; 'Hey, do you think the state of South Carolina would be interested in hosting some races at Darlington without fans?' I said, I think so. We went through our channels and got a hold of our governor, Henry McMaster, and he got on the phone with [International Speedway Corporation CEO] Lesa Kennedy and [NASCAR President] Steve Phelps."
With South Carolina's stay-at-home order lifted on May 4, Tharp's team started organizing a health and safety plan. People at the track must practice social distancing, wearing a mask, and staying sanitized. Darlington and Charlotte will also host one-day events so teams can return home on the same day as the race and not have to spend any nights in a hotel. There will be no practice or qualifying sessions at Darlington — just the races.
"By that last week of April, we had a real good understanding that we were going to race," Tharp said. "We thought we were going to have two races. We found out we're going to add the Xfinity race. So, we got three races. Very honored and humbled to have this opportunity. It's also a big responsibility we take very seriously."
NASCAR's playoff schedule remains unchanged for now, although scheduling is still a fluid situation. Darlington is still expected to host the first postseason event on Labor Day Weekend, so there will be three Cup races and two Xfinity races at the track this season.
"These were three additional races that were added and taken from some other tracks; I hate it for those tracks that they're not able to host these events," Tharp said. "I know how hard it is and how much work goes into promoting. These were add-ons to our schedule. It's going to be a lot different than what we typically see when we have 50,000 or 60,000 people over Labor Day Weekend."
"… We have three races in four days. I think they're still trying to finesse the rest of that schedule. That's what we're looking at and hopefully getting back on track. So, for right now, we're taking it one step at a time, and certainly, these are exciting times."
David Swope contributed to this story. To listen to his full interview with Tharp, click here.
Photo: Sean Gardner / Getty Images